Karl Lagerfeld is the latest to victim blame Kim Kardashian West after she was robbed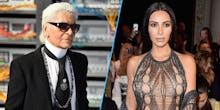 Whether it be about police brutality or controversial political candidates, fashion moguls often use their brands as a platform to discuss hot topics already percolating in society. But, Karl Lagerfeld: this might've been the time to remain your elusive self and stay quiet. 
Backstage at Chanel's Paris Fashion Week show on Tuesday, the brand's 83-year-old creative director commented on Kim Kardashian West's Sunday night robbery in which she was reportedly tied up and threatened at gunpoint at the No Address Hotel in Paris. 
And it seems that although the fashion icon — who recently shot Kardashian West and Kanye West for the Harper's Bazaar September cover — initially offered up his support, he believes it's partly her fault for constantly boasting about her expensive jewelry. 
"[She is] too public, too public — we have to see in what time we live," he told the Associated Press. "You cannot display your wealth then be surprised that some people want to share it."
At least $9 million worth of jewelry and two cell phones were taken while Kardashian West was bound in her room's bathroom, the New York Times reported. At the time, her bodyguard Pascal Duvier was out with her sisters Kourtney Kardashian and Kendall Jenner.
"I don't understand why [Kardashian] was in a hotel with no security and things like this," Lagerfeld told the AP. "If you are that famous and you put all your jewelry on the net you go to hotels where nobody can come near to the room." 
"If you are that famous and you put all your jewelry on the net you go to hotels where nobody can come near to the room."
Lagerfeld is not the only person criticizing or victim blaming Kardashian West, stating she brought this upon herself. The Hollywood Reporter was on scene outside of the hotel the morning after and overheard fashion reporters gossiping about the ordeal. The reactions ranged from "the whole thing sounds made up" to "she should stop Instagramming pictures of herself in her hotel bathroom." 
"The whole scene that follows her around fashion shows is of her own making," one American journalist said, according to the Hollywood Reporter. "If she didn't have that scene her business plan would fall apart. Her wealth is predicated on it." 
Although some facts might not make complete sense, like why Kardashian West didn't have any security or any entourage at all, no celebrity, or human being for that matter, should have to worry about being tied up and bound while in the safety of their home or hotel — and further, have said experience trivialized and scrutinized by press and random Internet trolls alike. 
Sure, Kardashian West could've done this or could've done that. But as Mic reported on Monday after many were voicing their disdain for the reality star on social media, flashing your wealth (like Lagerfeld doesn't believe Kardashian West should've done), your body or just simply allowing fans into your private life doesn't justify violence. 
And this is true even if you despise the Kardashians/Jenners and everything they stand for.