Lonely releases stunning unretouched visuals for their latest ad campaign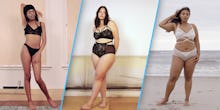 Inclusive lingerie ads are slowly becoming the norm. We've seen them from Aerie, and Curvy Kate, and Selfridges. But that doesn't make Lonely's new unretouched autumn/winter 2016 campaign any less stunning. 
The New Zealand-based brand, which recently made headlines for releasing raw images of Lena Dunham and Jemima Kirke, casted nine women of all different sizes, ages and races in order to encourage them, and others seeing the images, to feel comfortable and confident in their own bodies. 
"It's hard to feel this way when these differences, these things that make each of us unique and special, are edited, masked or airbrushed away from sight," Helene Morris, Lonely's founder and designer said in an interview. "With our imagery we focus on women as they are, with the hope that celebrating and embracing our differences, rather than masking them, makes us all feel a little more liberated in our own skin." 
She added, "Since launching Lonely in 2009, this has been something that is a non-negotiable for us, throughout all of our imagery and campaigns we will not retouch what it is that makes us unique and special."
Featured in this campaign are curvy models Paloma Elsesser and Georgia Pratt, trans model Aurel Haize Odogbo, the photographer's mother Rogeria, ballet teacher Anna Collins, Gabrielle Richardson, founder of the Art Hoe Collective, stylist Marcela Jacobina, writer Karley Sciortino of blog Slutever, and sex and relationship columnist Jani Lucid. 
As seen in the images, to the brand, diversity means more than just size inclusivity. 
"It doesn't just mean size, it means that we embrace and celebrate all diversity," Morris said. "For so long it is not only one body type that has been represented in traditional lingerie imagery, but older women are not, transgender women are not... We hope for a time where we are not singled out as a brand whose imagery is an exception to the images that we see in the media."
And this time is definitely approaching. If the praise these brands like Lonely and Aerie receive from press and consumers alike isn't enough, the sales just might be. As Mic reported in May, after pledging to stop airbrushing images of its models in 2014, the company's sales have continuously increased. And after the Dunham and Kirke photos went viral, Morris explained to Fashionista that there was a "huge amount of traffic and feedback."
At the moment, the brand does not stock plus-sizes, but as Fashionista explains, the brand plans on adding sizes as they are able to dependent on manufacturing. Until then, through portrait series, the brand continues to redefine what society deems to be beautiful or sexy. Something that some brands, like say Victoria's Secret, are simply not even attempting. 
"Not enough people are prepared to challenge the status quo and make changes for the better," Morris said. "We hope that through our imagery we are able to help women feel a little more confident to be themselves and maybe in doing so also challenge other brands at the same time."