Gary Johnson makes Donald Trump look like a foreign policy genius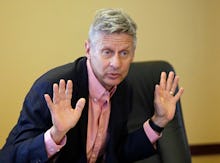 There he goes again.
After two cringe-worthy missteps on foreign policy — first an inability to identify the Syrian battleground of Aleppo and later a failure to name even one world leader he admires — Libertarian presidential nominee Gary Johnson was unable to name North Korea's leader in an interview with the New York Times.
When the Times asked Johnson if he knew who led country — where dictator Kim Jong-Un's hatred for the West coupled with its nuclear program have made him one of the world's most prominent strongmen — Johnson declined to provide Kim's name.
"You want me to name" the person, he told the Times before pausing and then declining to give the name.
Kim took over control of the country after his father, Kim Jong Il, died in 2011.
North Korea has been testing nuclear weapons despite the threat of sanctions, including an underground test in early September that was its most powerful yet.
Johnson's latest foreign policy blunder comes as his vice presidential running-mate, former Massachusetts Gov. Bill Weld, said he will do everything he can to keep Donald Trump out of the White House.
Because allies of Hillary Clinton fear that the Johnson-Weld ticket could act as a pro-Trump spoiler, many took those comments as Weld suggesting he doesn't think voters should pick the Libertarian ticket.
But Weld also said he "had in mind all along trying to get the Donald into third place."
Mic has ongoing presidential coverage. Please follow our main election hub as well as coverage of Donald Trump and Hillary Clinton.