When will Hurricane Matthew hit South Carolina and North Carolina?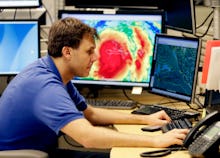 Hurricane Matthew, a Category 3 storm with up to 145 mph winds, slammed into the Bahamas on Thursday morning, as states across the U.S. southeastern coast were bracing for the storm to intensify as it heads north.
The governors of Florida, Georgia, South Carolina and North Carolina have declared emergencies, ordered evacuations and put thousands of National Guard soldiers on duty or on alert, according to the New York Times.
Here's the latest information about the storm's path:
When Hurricane Matthew is expected to hit South Carolina 
According to the most recent National Hurricane Center forecast, the storm is expected to hit eastern areas of South Carolina early Friday and Saturday. The eye of the storm may not land in the state, but high wind speeds are expected.
Forecasters also expected Matthew to bring up to a foot of rain in the Lowcountry, which encompasses Charleston and North Charleston, South Carolina, the State reported. Wind speeds of up to 70 mph could be expected there. The Columbia area, to the northeast, may only see 2 inches of rain and moderately gusty winds.
When Hurricane Matthew is expected to hit North Carolina
Forecasters expect Matthew to reach North Carolina by late Friday night and Saturday. But officials aren't expecting severe effects.
The latest forecast shows the Charlotte, North Carolina, area could see up to an inch of rain Friday night through Saturday, with wind gusts of up to 35 mph, the Charlotte Observer reported. In Union County, east of Charlotte, residents may see as much as 2 inches of rain.