Teen dresses as a thief for Culture Day "bc white people steal everyone else's culture"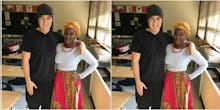 On Tuesday, multiple Springbrook High School students dressed up in traditional garb for the school's cultural day. Josh Welch, a senior at the Maryland-based school, opted for a black tee and sweatpants. 
Why? Instead of wearing something from his heritage, Welch, a white man, decided to make a bold commentary on the ever-present conversation surrounding cultural appropriation.
"Dressed like a thief for culture day bc white people steal everyone else's culture," he wrote on Twitter with a photo of his outfit that has since been retweeted nearly 30,000 times.  
While many have since commented with praise, saying things like, "I'm shook" and "god bless," an assortment of trolls (wrongfully) believe that Welch is thereby stating that white people do not have a culture, as opposed to just commenting on a societal issue. 
"Being a huge advocate for social justice, I was excited to come to school and participate in some grass roots activism," he said to BuzzFeed. 
White folks have always been accused of taking other cultures' trends without proper credit. Even worse, many have been acknowledged for discovering said trend that had long been around. Take "boxer braids" for example, or Kylie Jenner's lip injection craze. As Mic's Zak Cheney Rice previously explained, "the erasure of people of colors' contributions has long defined the American experience." 
And this has been ever-so present within the past year with A-list celebrities like the Kardashians and Justin Bieber, and big-name brands like Free People and Marc Jacobs, being called out for cultural appropriation.  
On top of all of this, Halloween, which is 25 days away, is often a holiday where people find it acceptable to wear other's culture symbols and sometimes even skin tones. 
So while Welch was successfully able to spread a little humor and awareness around, he also is sending a friendly reminder to put down Native American headdresses, Bob Marley dreadlocks and sombreros. And instead, pick something a little more creative, like, say, a statement-making costume.