Why Alicia Keys' "no makeup look" might not deserve the near-unanimous praise its getting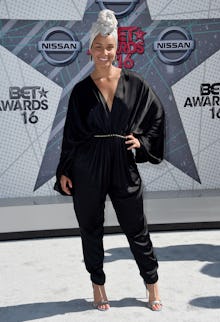 Ever since Alicia Keys declared in a Lenny Letter that she was no longer going to cover herself up, she has been spotted sans makeup on multiple red carpets, in her upcoming album's promo images and while judging the new season of The Voice. She's even inspired fellow celebrities like Gabrielle Union and Today anchor Tamron Hall to join the bare-faced bandwagon. 
But, as it turns out, the 15-time Grammy-winning musician doesn't simply roll out of bed and go. In fact, she uses over $400 worth of products to acquire her glowing "no makeup" complexion.
In an interview with W, her makeup artist Dotti revealed Keys' step-by-step regimen — one that includes facials and acupuncture on top of the hundreds of dollars worth of serums. 
"She knows you have to invest internally for your skin to look great externally," Dotti told the publication. "It's about the choices she's making and the products she's using. It's the work of a good team." 
Before the products are applied, Dotti often rolls a jade roller over Keys' skin and sometimes enlists the help of cucumbers. She then uses a cleansing tonic, jojoba oil and a probiotic skin and treatment mask. In terms of makeup, she uses a brow definer, self-tanning serum or a pore-minimizer. 
"Compared to the world of makeup, there is minimal," Dotti said to W. "She's already powerful to look at, with those amazing Cleopatra-shaped eyes, and now we get to see them." 
As Mic reported in June, although there has been significant praise and support for Keys' no makeup pledge, some have acknowledged that not everyone can look as flawless as the celebrity does without any makeup, or, well, even with the $400 dollars worth of products. 
"I love Alicia Keys' no makeup wave but I also wish I looked like Alicia Keys without makeup," one person wrote on Twitter. Said another: "As much as I love Alicia Keys' movement, must be pretty easy for her as she does have FLAWLESS skin anyway." 
For some, not wearing makeup is another nearly impossible beauty standard to have to live up to. And now, according to Keys' makeup artist, something that also takes a lot of time, effort and cash. 
There might be mixed messages of what is "beautiful," "acceptable" and what even constitutes the "no-makeup makeup," but choosing to wear makeup or not is a personal decision, one that no one should be or feel shamed about. 
As Keys herself tweeted a few weeks back, "Y'all, me choosing to be makeup free doesn't mean I'm anti-makeup. Do you," whether that means ditching beauty products completely, opting for a fully painted face or going for a "Alicia Keys no-makeup makeup" look. Just know whatever option you go for might not be as easy to replicate as it seems.