Khloé Kardashian releases first teaser for her upcoming inclusive denim line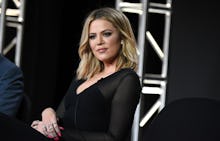 If there's one Kardashian-Jenner sister that could relate to the struggles curvy women face when shopping, it's Khloé. She's time and time again spoken out about her fluctuating weight, being body shamed for her curvier body type and the roadblocks she faced when being dressed by stylists who simply didn't have options for her body type. 
With her own plight in mind, and the difficulties that come with shopping for jeans in general, the 32-year-old announced in May that she was creating a line of denim for women of all shapes and sizes. And on Thursday, Kardashian revealed the first images and teaser video for the new collection, which is titled Good American. 
"Countdown to the launch of my denim brand @goodamerican begins," she wrote on Instagram and Twitter. "12 days until you can shop goodamerican.com #GoodSquad."
Along with the announcement in May came the opportunity for women to apply for the chance to appear in the unaltered images for her brand. Kylie's best friend Jordyn Woods, who also happens to be a curvy model, has been revealed to be the first model and member of the "Good Squad." 
"I'm so proud to introduce the first of my girls," Kardashian wrote on Instagram. "I'm so excited to be part of this denim revolution," Woods added on her account. 
The collection, which will be available in sizes 0 to 24, was "inspired by [the] belief that every body deserves to be shown off," according to its website.
A press release explains that the brand hopes to "[advance] the body movement seen in popular culture." And by making the jeans available in sizes up to a 24, Good American is doing just that. 
After all, as Mic reported a few weeks ago, brands can cast curvy women for campaigns, but at the same time, still ignore many of the needs and wants of non-straight-size women. 
And many have taken to Twitter to applaud the brand and Kardashian for following through. 
Unfortunately, Good American isn't helping all of those people who prefer to shop in-store, as most items will be available online or in select Nordstrom locations — but it is taking steps toward inclusivity, which many brands simply just aren't even attempting to do. 
Here's to hoping the jeans, which will be available to purchase on Oct. 18, don't cost an arm and a leg.