Viola Davis on embracing her natural hair, black girl magic and redefining beauty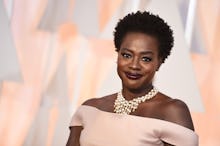 When Viola Davis isn't heating up the small screen as Annalise Keating on ABC's How To Get Away With Murder or acting on the big screen in a blockbusters like Suicide Squad, she's advocating for the Rape Foundation. Or acting as an ambassador for childhood hunger. Or standing up to cancer. And sometimes she is just simply a spokesperson for black women everywhere. 
The Emmy-winning actress has time and time again made a bold statement by wearing her hair natural on magazine covers, during numerous red carpet appearances and on her show. Something that is especially significant when black women are still being fired, expelled and called  "animals that can't be tamed" for wearing their hair in its natural state. 
"I just feel, with black women, we have to redefine ourselves," Davis said in an interview on Saturday in her hometown of Central Falls, Rhode Island, where she was back in town for a one-day free health clinic presented by Vaseline's Healing Project, for which she is a spokesperson.
"We have to take back everything that people said about us that was negative. Saying that your hair has got to be straightened in order to be formal. Your hair has got to be straightened in order to be beautiful. Being objectified for your beauty but not being appreciated for it in the same way caucasian women are. Taking back the light skin/dark skin thing. If you're lighter than a paper bag, you're cute. If you're darker, you're less attractive."
She added, "I am redefining all of that for myself and I say that all of it were lies. Anything anyone ever told me about myself was a lie. So I'm redefining it for myself now at the age of 51." 
Davis grew up in poverty and, therefore, didn't have a choice when it came to wearing her hair natural throughout her childhood. "It was just me," she said. "And I was a very simple girl. I wasn't into makeup or clothes at all. But what happened throughout the years, of being dark skinned and having my natural hair, is being constantly called ugly. Constantly being called not pretty. To the point that I started to believe it."
She began to hide behind wigs and had one for all aspects of her life. "I would have a wig that I would wear when I'd go to the jacuzzi," she said. "I'd have a wig that I'd wear for publicity, a wig that I'd wear when I'd open the door. And not that I don't wear wigs now, but I also wear my natural hair a lot, and I don't really think much about it. That's how I've been liberated from it."
"I can honestly say at the age of 51, that I deserve it. And that makes me feel very beautiful."
Davis has realized that her beauty isn't determined by her outside appearance or what others might've deemed beautiful. 
"I'm good with me now," she said. "I can actually say that. I'm not saying that just for the interview, but for me, right now, I look at everything, even today what's happening, seeing people from my childhood, looking at my family, looking at my daughter who's absolutely beautiful in every way, and my husband and what I've accomplished, and I can honestly say at the age of 51, that I deserve it. And that makes me feel very beautiful."
As for others looking to redefine their own beauty or discover their inner confidence, Davis recommends not stressing over something that cannot be changed.
"It's kind of like getting on the scale four times in like 30 seconds," she said. "I do that sometimes. I'll get on the scale, I'll get off. I'll get on the scale, I'll get back off. Until I finally realize, 'It's not going to change, Viola'. And I kind of feel that way about myself. There's a famous saying, 'you are god's workmanship.' You are. You're God's workmanship. Every part of you is God's workmanship."
She continued, "Even a bad memory ... So therefore, he's giving you all of that for a purpose. So what is that purpose? You know, that's the best thing about the Vaseline Healing Project, people who have scars, people who are ashamed of themselves because they have something right across their face, it is providing them relief, it's providing them healing. That's the thing that we have to understand, that we're all healing from something."