Ken Thompson, Brooklyn's first black DA, tried to make the system fairer for POC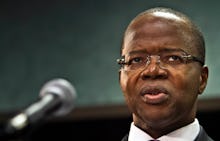 Kenneth Thompson, the first African-American elected to serve as Brooklyn's head criminal prosecutor in the office's 166-year history, died Sunday. He was 50.
Thompson's passing came as a shock to officials in New York state, as he had only announced his plan to take a leave of absence for cancer treatment and recovery last week. But after over two years in office, the prosecutor is most likely to be remembered for his efforts to reform the local criminal justice system — in spite of the opposition he faced from the New York Police Department — so blacks and Latinos were treated more fairly.
"A lifelong New Yorker, Ken was known as an effective, aggressive civil rights leader — and a national voice for criminal justice reform," Gov. Andrew Cuomo said in a statement released Sunday.
After his election as Brooklyn district attorney in 2013, Thompson won some praise from Black Lives Matter activists for the decision to charge Peter Liang, the former NYPD officer who fatally shot Akai Gurley — an unarmed black man — in a darkened stairwell of a housing project in 2014. But that praise turned to scorn after Thompson decided not to seek prison time for Liang, after the officer's conviction in 2016.
Decriminalization: In July 2014, about six months into his term, Thompson announced that the Brooklyn District Attorney's Office would stop prosecuting most low-level marijuana cases. In a memo Thompson said the plan was meant to keep nonviolent people, "and especially young people of color," out of the court system. Young offenders, those who were 16- and 17-year-olds, who committed other nonviolent misdemeanors such as graffiti were to be diverted into behavioral programs, according to the New York Times.
But it's unclear how successful Thompson had been in de-emphasizing nonviolent drug offenses, a plan hatched after a contentious negotiation with NYPD officials. Of the 39,611 misdemeanor drug arrests made by the NYPD in 2015 where race was known, 46.3% were black, 35.9% were Latino, 14.5% were white and 3.2% Asian/Pacific Islander, according to the department's latest report on crime and enforcement activity.
That's still a disproportionate rate for blacks and Latinos, who are 25.5% and 28.6% of the New York City population, respectively, according to the U.S. Census Bureau. Whites are 33.3% of the city.
Exoneration: Among the first things Thompson did in office was create the Conviction Review Unit, which examines questionable convictions. Although most of the cases reviewed by the unit were upheld, at least 21 people have been exonerated, many of them people of color, according to the Brooklyn DA Office website.
Thompson was born in New York City in 1966, the son of a police officer and of a mother who had aspirations of joining the NYPD, according to the Times. After law school, Thompson landed a position in the federal prosecutor's office in 1995.
Attorney General Loretta Lynch, who worked with Thompson in the U.S. Attorney's Office in Brooklyn, called him a "devoted public servant," in a statement released Monday. "With the passing of Kenneth Thompson, the United States has lost a tireless defender of equal rights and a steadfast champion of equal justice," Lynch said in the statement. "Our nation is a stronger and safer place because of his dedicated service."
He worked alongside Lynch at the trial of Justin Volpe, the former NYPD officer who pleaded guilty in the brutal beating of black immigrant Abner Louima in Brooklyn in 1997. Thompson later left the federal prosector's office to go into private law practice — famously defending Nafissatou Diallo, the African-born Manhattan hotel housekeeper who accused French politician Dominique Strauss-Kahn of rape in 2011, the Times reported.
Newly appointed NYPD Police Commissioner James O'Neill said the department is "deeply saddened" by Thompson's passing. "He dedicated his life to the pursuit of justice, and his legacy will live on through his contributions to the criminal justice system," the Times reported.
Thompson is survived by his wife of 17 years and two children, as well as his father, mother, brother and sister.