When is the next presidential debate? Here's the remaining schedule for the 2016 election.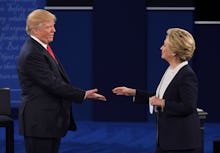 The next presidential debate between Hillary Clinton and Donald Trump is scheduled to take place Oct. 19 at 9 p.m. Eastern. It will be the last debate before voters cast their ballots in the Nov. 8 election.
The University of Nevada, Las Vegas will host the event at Thomas & Mack Center. In September 2015, the Commission on Presidential Debates announced UNLV as the site of the final debate.
"UNLV is honored to be a host venue for a presidential debate, as we believe it will bring a unique energy to one of the most diverse campuses in the country," UNLV President Len Jessup said in a statement released after the debate commission's announcement. 
"A core mission of a university is to educate future leaders and hosting a presidential debate will allow students to experience the political process first-hand and better understand how public policy impacts their lives," Jessup added.
The Thomas & Mack Center has a maximum seating capacity of 19,522, according to the arena's website. 
Chris Wallace, the anchor of Fox News Sunday, will moderate the third debate, the cable network has confirmed. The format of the third debate will be similar to the first debate which, unlike the second debate in St. Louis, did not include questions posed directly to candidates by members of the audience.