WikiLeaks reveals Blink-182's Tom DeLonge sent UFO messages to Clinton campaign chairman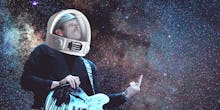 Remember Tom DeLonge of early-2000s pop-punk band Blink-182? Remember how he took a break from the band to focus on a multimedia project about UFOs and the government? Turns out, the singer-guitarist has contacted Hillary Clinton's campaign chairman John Podesta about UFOs, according to the Wall Street Journal. WikiLeaks released the emails this month.  
As the Wall Street Journal reports, DeLonge wrote to Podesta about UFOs at least twice, but it's unclear if Podesta responded.
[DeLonge] wrote in cryptic terms about their well-documented mutual interest in more government disclosure about the phenomenon of unidentified flying objects of potential extraterrestrial origin.
In one email to Podesta, DeLonge said he has been working with a former military official for the documentary, and he mentions the Roswell crash — a reference to a conspiracy theory that the U.S. government discovered an alien spaceship in 1947 and covered it up. 
Both DeLonge and Podesta have been very open about their interest in UFOs, or unexplained aerial phenomena, as some prefer to call them. Podesta, who has worked with Bill Clinton and Barack Obama, said his "biggest failure" of 2014 was not getting the government files on UFOs released.
He has a kindred spirit in DeLonge, whose documentary is part of a media franchise called Sekret Machines that includes fiction, nonfiction and music related to unexplained aerial phenomena and the U.S. government. His goal is to get people to understand that "the whole UFO phenomenon is different than what people think it is," he said in an interview with Mic this summer.
For her part, Hillary Clinton has said as president she would release information about Area 51 and "get to the bottom of" all this UFO business.
Clinton's campaign has condemned the WikiLeaks email dump, saying Russia may be responsible for the hacking, according to the Wall Street Journal.