ACLU blocks Geofeedia from using Facebook, Twitter to spy on Black Lives Matter activists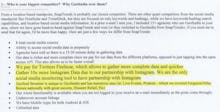 In October 2015, Geofeedia, the developer of a social media monitoring software, all but bragged in emails to police departments that it could help them spy on Black Lives Matter organizers and protesters with its access to Facebook, Instagram and Twitter user data. 
But all of that changed Tuesday, after the American Civil Liberties Union of California published the findings of a probe showing Geofeedia had marketed social media surveillance products to dozens of law enforcement agencies, an apparent violation of the data access agreement it had with the social networking services.
In September, Instagram and its parent company, Facebook, cut off Geofeedia's access to public user posts and to topic-based feed of public user posts, respectively. On Tuesday, Twitter announced it was ending its data relationship with Geofeedia. But the ACLU, which has previously raised questions about the government's unregulated use of social media for surveillance purposes, said the actions taken by the social media companies don't go far enough.
"Further steps are required if these companies are to live up to their principles and policies by protecting users of all backgrounds engaging in political and social discourse," the ACLU of California wrote Tuesday in a blog about its Geofeedia probe.
The ACLU sent letters to Facebook, Instagram and Twitter, in conjunction with the Center for Media Justice and Color of Change, two organizations affiliated with the Movement for Black Lives and the Black Lives Matter network, which grew from a social media hashtag in 2013 to a global movement today. The groups asked the social networks to cut off all data access to surveillance companies, to publish new policies prohibiting the exploitation of user data by developers and to provide better oversight that would identify potential violators of the policy.
Ultimately, "the government should not have preferred access to social media speech for surveillance purposes," the ACLU blog reads. "We are confident the companies agree."
A representative from Facebook said Geofeedia always had limited access to data compiled from public profiles, but had violated its Platform Policy regulating how the data could be used. "If a developer uses [its data access] in a way that has not been authorized, we will take swift action to stop them and we will end our relationship altogether if necessary," a Facebook spokesperson said in an email.
When asked for comment, Twitter pointed to a tweet it sent Tuesday morning announcing that it cut off Geofeedia's access. Twitter also has a rule prohibiting the sale of user data for surveillance and bans developers who use that data "to investigate, track or surveil Twitter users," according to its policy.
It's typical for social media companies to grant outside developers access to user data through application programming interfaces, or APIs. This allows developers to build their own apps that seamlessly access social networking company's user data, to create new products and experiences.
Geofeedia, a Chicago-based tech startup, bills itself as a service allowing clients to "search [and] analyze real-time social media content coming from any location in the world." In a statement emailed to the Chicago TrIbune, Geofeedia CEO Phil Harris said the company already has policies to "prevent the inappropriate use of our software."
Harris continued: "That said, we understand, given the ever-changing nature of digital technology, that we must continue to work to build on these critical protections of civil rights."
In one email obtained by the ACLU, Geofeedia told police it used its surveillance products to "great success" in national BLM-led protests sparked by the 2014 police shooting death of unarmed black teen Michael Brown in Ferguson, Missouri. The ACLU said it first learned of Geofeedia's agreements with Facebook, Instagram and Twitter through responses to public records requests that it sent to 63 law enforcement agencies in California.
Those agencies include the Oakland Police Department, which has used Geofeedia to monitor protests. The ACLU's investigation further revealed Geofeedia, which claims to have 500 law enforcement and public safety clients, had access to data that would allow police to "easily target neighborhoods where people of color live [and] monitor hashtags used by activists and allies," according to the organization's blog.
"Social media monitoring is spreading fast and is a powerful example of surveillance technology that can disproportionately impact communities of color," the ACLU wrote.
Mic senior writer Jamilah King contributed to this story.