Four former beauty queens claim Trump walked in on underage women changing at pageants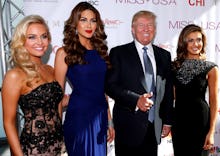 In a new BuzzFeed News report, four former 1997 Miss Teen USA pageant contestants claim Donald Trump entered their changing room. Former Miss Vermont Teen USA Mariah Billado recalled quickly dressing while thinking, "'Oh my god, there's a man in here.'"
Two unnamed contestants said they remember girls rushing to cover up upon Trump's entrance while a third said she had introduced herself to the Republican nominee since she'd been fully clothed. BuzzFeed News granted these contestants anonymity, as they told the outlet they feared backlash. 
BuzzFeed News reached out to 49 out of the 51 contestants — the youngest of whom was 15, according to BuzzFeed News — who they found through a Facebook group dedicated to the '97 pageant. Eleven of the women reporters managed to get in touch with said they don't remember ever seeing Trump in the dressing room and say it was unlikely to have happened at all. 
"There was way too much security," former Miss Maine Teen USA Crystal Hughes told BuzzFeed News. "If that was something he did, then everybody would have noticed."
These allegations follow a statement from a former Miss New Hampshire USA, claiming the Republican nominee gawked at naked women changing at the 2000 Miss USA pageant. 
Audio CNN leaked from Howard Stern's show — which notably included Trump giving Stern permission to call his daughter Ivanka a "piece of ass" — seemed to somewhat corroborate these claims.
"Well, I'll tell you the funniest is that before a show, I'll go backstage and everyone's getting dressed, and everything else, and you know, no men are anywhere, and I'm allowed to go in because I'm the owner of the pageant and therefore I'm inspecting it," Trump said in an April 2005 episode. 
He added, "You know, they're standing there with no clothes. 'Is everybody okay?' And you see these incredible looking women, and so, I sort of get away with things like that."
The Trump Organization did not respond to BuzzFeed News when reached out for comment. Mic has also contacted the Trump campaign for comment and will update this story if we hear back.