Keith L. Scott was shot 4 times, once in the back, by Charlotte officer, autopsy finds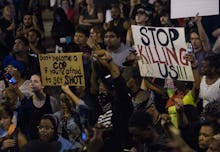 Keith L. Scott, the black man fatally shot by a Charlotte-Mecklenburg Police Department officer in September, was struck four times by bullets. One of the bullets struck him in the back, according to an independent autopsy order by his family.
The autopsy was performed Sept. 30; the forensic pathologist who examined Scott's body concluded that the 43-year-old was wounded in the upper back, abdomen and his left hand, the Washington Post reported.
Kim Collins, the pathologist hired by Scott's family, ruled the death a homicide. "The cause of death is two, penetrating, indeterminate range gunshot wounds to the back and abdomen," Collins wrote in a report of the autopsy, according to the Post.
Police have identified the officer who killed Scott as Brentley Vinson.
Vinson shot Scott on Sept. 20, near his truck that was parked in the neighborhood where he picked up one of his children from a bus stop every day, his family said. They also said Scott was unarmed when he was killed. Police have disputed that claim, citing the recovery of a gun from the scene.
Police body camera videos have been released to the public, but only after protesters staged multi-day demonstrations in Charlotte, some of which escalated to civil unrest. The family also released video taken by Scott's wife, Rakeyia, which shows her pleading with officers not to open fire on his husband moments before they do.
Scott's funeral services are scheduled for Saturday in South Carolina, but they had been delayed for the private autopsy and by statewide emergency declarations ahead of Hurricane Matthew.