Two women accuse Donald Trump of sexual assault: "His hands were everywhere"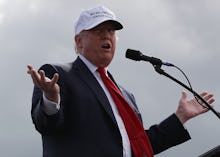 After release of video in which Donald Trump can be heard describing in lewd terms how his celebrity status would allow him to grope women, two women who say they were targets of his unwanted advances came forward Wednesday. And Trump has already denied the allegations.
In interviews with the New York Times, Jessica Leeds and Rachel Crooks said Trump did the things he denied ever doing during the second presidential debate Sunday. The women said they came forward because Trump claimed to have only engaged in "locker room talk" in a conversation recorded in 2005 with then-Access Hollywood host Billy Bush.
"He was like an octopus," Leeds, 74, told the Times. "His hands were everywhere."
Leeds said the encounter with Trump took place during a flight to New York more than 30 years ago. Traveling as an employee of a paper company, Leeds sat next to the Republican presidential nominee in the first-class cabin. Approximately 45 minutes into the flight, Trump lifted the armrest separating them and grabbed her breasts and tried to put his hand up her skirt, according to the Times.
"It was an assault," she said. Trump had never met Leeds before the encounter, the Times reported.
Crooks said she was a 22-year-old receptionist for a real estate investment firm in Trump's famous Manhattan tower, when he tried to force her to kiss him on the lips outside of an elevator in 2005.
According to the Times, Crooks said she considered it a violation. "It was so inappropriate," she said to the Times. "I was so upset that he thought I was so insignificant that he could do that."
The Times reported Trump was agitated in a phone interview Tuesday night about the claims and denied the allegations. "None of this ever took place," Trump reportedly shouted.
"You are a disgusting human being," he added.
In a statement released Wednesday night by the Trump campaign, Trump dismissed the Times' story as "fiction."
And a few hours later, Trump's lawyers threatened the publication with legal action. 
"Your article is reckless, defamatory and constitutes libel per se," Trump lawyer Marc E. Kasowitz wrote in an open letter to Dean Baquet, executive editor of the Times, according to CNN. 
"We hereby demand that you immediately cease any further publication of this article, remove it from your website and issue a full and immediate retraction and apology," Kasowitz added. "Failure to do so will leave my client with no option but to purse all available actions and remedies."
The allegations follow the Oct. 7 release of previously unaired footage from a 2005 segment Trump taped for Access Hollywood with Bush. Trump is heard telling Bush that his fame gave him license to approach women and "grab them by the pussy."
Later Trump said, "I just start kissing them. It's like a magnet. Just kiss. I don't even wait."
That's eerily similar to Crook's description of her encounter with him at Trump Tower.
Oct. 13, 2016, 1:40 p.m.: This story has been updated.