How many women have accused Donald Trump of rape or sexual assault?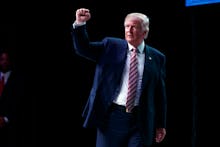 On Wednesday, Oct. 12, Donald Trump was accused of groping and sexually assaulting two women that he encountered as far back as 30 years ago.
But what was revealed in the New York Times interview of Trump's alleged victims is the latest in a string of accusations of gropings, unwanted kissing and misogynistic behavior against the embattled Republican presidential candidate.
The number of women who have accused Trump of rape or sexual assault is at least 12 as of Oct. 28. Trump has denied virtually all of the allegations.
Here are the other allegations.
Trump allegedly squeeze the former Miss Finland's butt before they went on the Late Show with David Letterman
Ninni Laaksonen, 30, was Miss Finland in 2006 and has participated in Trump's Miss Universe pageant. Before she, Trump and three other pageant contestants made an appearance on the "Late Show with David Letterman," the group posed for a photograph outside of the iconic amphitheater in New York City.
"Trump stood right next to me and suddenly he squeezed my butt. He really grabbed my butt," Laaksonen alleged in an interview with Finnish newspaper Ilta-Sanomat, according to the Telegraph.
"I don't think anybody saw it but I flinched and thought: 'What is happening?'" the former Miss Finland said in the interview.
Trump allegedly groped and forced himself on a former contestant of his 'Apprentice' show
On Friday, Oct. 14, Summer Zervos, a former contestant on The Apprentice, came forward to accuse Trump of forcing himself on her during a dinner meeting at a hotel in Los Angeles. After Zervos arrived to the meeting, Trump began "kissing me open-mouthed," she said during a press conference.
The assault didn't end there, Zervos added. "He then grabbed my shoulder and began kissing me again very aggressively and placed his hand on my breast," she said. "I pulled back and walked to another part of the room. He then walked up, he grabbed my hand and walked me into the bedroom."
From there, Trump allegedly asked Zervos to lay down on the bed and forced himself on her. He began "thrusting his genitals" at Zervos, she said, and only relented after she reminded him that she'd come to have dinner with him.
Trump allegedly slid his hand up a woman's skirt in a crowded club.
On Friday, Oct. 14, the Washington Post published the story of Kristin Anderson, who said she was an aspiring model when she encountered Trump in a crowded Manhattan club. Anderson alleges he slid his hand under her miniskirt and touched her vagina through her underwear. 
"It wasn't a sexual come-on. I don't know why he did it. It was like just to prove that he could do it, and nothing would happen," Anderson told the Post.
Trump allegedly groped a woman at Ray Charles concert.
Mindy McGillivray has claimed that Trump grabbed her butt 13 years ago in Mar-a-Lago, while Trump's then-fiance, Melania, stood next to him, according to New York magazine. "All of a sudden I felt a grab, a little nudge," McGillivray said. "I turn around and there's Donald. He sort of looked away quickly. I quickly turned back, facing Ray Charles, and I'm stunned."
Trump allegedly grabbed Miss Washington USA's butt.
Cassandra Searles, who was Miss Washington USA 2013, claimed in a Facebook post earlier this year that Trump grabbed her butt and propositioned her with an invitation to his hotel room, Rolling Stone reported.
Trump allegedly groped a woman in his daughter's bedroom.
According to the Guardian, Jill Harth, a makeup artist, claimed in a 1997 lawsuit that Trump cornered and groped her in his daughter's bedroom. Harth said she and her husband had been trying to get Trump to support the festival they ran together.
Trump's ex-wife, Ivana, wrote of their rough sex that felt like rape.
According to the 1993 book, Lost Tycoon: The Many Lives of Donald J. Trump, Ivana Trump revealed in depositions for their divorce case that after an argument, the two had engaged in rough sex that felt like rape. But Ivana Trump later said she meant rape, in the emotional sense, not in the criminal sense, the Daily Beast reported.
Trump allegedly raped a teenage girl in a New York City apartment.
The attorney for a woman accusing Trump of raping her in 1994, when his client was just 13 years old, told BuzzFeed that Trump will eventually have to answer the accusation under oath. The civil suit alleges that Trump had forcible sex with the girl during a party at the Manhattan apartment of convicted pedophile and billionaire Jeffrey Epstein.
Trump is accused of sexually assaulting a writer from People magazine.
People writer Natasha Stoynoff penned an essay published Oct. 12, in which she described Trump groping and forcibly kissing her while she was on assignment for the magazine in 2005.
Trump allegedly tried twice to forcibly kiss a Miss USA contestant
Temple Taggart McDowell, a former contestant on Trump's Miss USA competition, claimed that Trump kissed her with out her permission. It happened twice, according to the Daily Beast.
Oct. 28, 2016, 10:00 a.m. Eastern: This story has been updated.