In 1992 video, Donald Trump creepily vowed to date an underage girl when she got older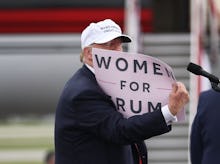 Donald Trump seemed further away from putting allegations of sexual assault behind him Wednesday, following the release of archived video in which he is heard ogling over an underage girl.
CBS News published a clip from a 1992 Entertainment Tonight Christmas feature, in which a 46-year-old Trump looks at a group of young girls and says he would be dating one of them when she became of age.
In the clip, Trump is heard asking one girl if she was "going up the escalator." After she replies, "yeah," Trump says, "I am going to be dating her in 10 years. Can you believe it?"
The footage emerged on the same day two women told the New York Times that Trump had sexually assaulted or attempted to kiss them, in encounters that occurred decades apart. It also comes after Trump denied having ever carried out behavior that he described in lewd terms to an entertainment TV host in 2005.
The tape, previously unaired until Oct. 7, became the latest scandal to rock the Republican presidential candidate's floundering campaign against Hillary Clinton. Trump has denied all sexual assault allegations.
Some critics have been especially disturbed by Trump's use of language that sexualizes young women. In 2006, Trump reportedly said he would date his own daughter, Ivanka Trump, if he weren't her father.
On Wednesday, the attorney for a woman accusing Trump of raping her in 1994, when his client was just 13 years old, told BuzzFeed that Trump will eventually have to answer the accusation under oath.
Trump has also denied the woman's rape allegations, according to BuzzFeed.