FBI Director James Comey says there's no police shooting epidemic. Here's why he's wrong.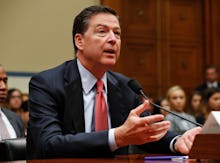 If you ask FBI Director James Comey, there's no such thing as an epidemic of police shootings of black people in the U.S. 
His reasoning is pretty simple: The federal government doesn't have an accurate count of police shootings, and an outside study done by elite universities suggests white people are often the targets of lethal force in the nation's major police departments.
"In a nation of almost a million law enforcement officers and tens of millions of police encounters each year, a small group of [shooting] videos serve as proof of an epidemic," Comey said in a speech at the International Association of Chiefs of Police Annual Conference in San Diego, California, on Sunday.
Addressing the room full of police chiefs, Comey added, "Of course, however good their hearts, however good their intentions, Americans actually have no idea whether the number of black people or brown people or white people being shot by police is up, down, or sideways over the last 10 years."
Comey's speech was delivered just a few days after the U.S. Department of Justice announced a new initiative to track police killings and the use of force through an online portal. But much of what leads to police shootings of blacks has to do with institutionalized racism in the criminal justice system — one created after slavery to find new ways to hold African-Americans in bondage under the guise of public safety. Comey's attempt to debunk a myth of a lethal force epidemic against blacks shows he's yet another law enforcement official more interested in protecting police than reckoning with the long history of unfair and unjust treatment.
Blacks are just 13% of the U.S. population, but were nearly a quarter of the people fatally shot by police in 2015. But that's not the only disparity: Blacks are 30% more likely than whites to be pulled over by police, three times as likely to be searched and twice as likely to be arrested, according to law enforcement data recently cited by President Barack Obama.
Over the last couple of years, tracking police shootings and officer-involved deaths nationally seems to have been up to media outlets with the bandwidth for such an undertaking. According to the Washington Post's database, which only tracks fatal shootings by officers, 258 of the 991 people killed in 2015 were black. As of Monday, 204 of the 851 people fatally shot by police in 2016 were black, according to the Guardian's database.
The speech to police chiefs is the latest in a handful of incidents where Comey seems dismissive of the notion that race determines Americans' relationship with police. In a 2015 speech at Georgetown University titled "Hard Truths: Law Enforcement and Race," Comey acknowledged police culture contributes to racial bias among officers — but added that "racial bias isn't epidemic in law enforcement any more than it is epidemic in academia or the arts."
Comey added, "[Officers] don't sign up to be cops in New York or Chicago or L.A. to help white people or black people or Hispanic people or Asian people. They sign up because they want to help all people. And they do some of the hardest, most dangerous policing to protect people of color."
Then and on Sunday, Comey's focus is not on the real problem. Even if whites, the majority group of the U.S. population, were shot more by police than blacks, it's blacks who are more likely to encounter police officers when a shooting can happen.
Perhaps Comey should take a harder look at the data to which he's already privy.