Donald Trump Jr.'s resurfaced interviews reveal sexism, xenophobia and other garbage ideas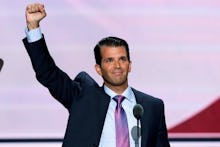 After audio in which Donald Trump Jr., is heard victim blaming women for sexual harassment surfaced on Friday, CNN unearthed a fresh batch of recordings Monday from three separate radio shows. Between 2011 and 2015, Trump Jr. took to the airwaves to make light of a mass shooting, fat shame strangers, bully some anonymous children and more. 
The recordings surfaced just over a week after Jr.'s father, Republican presidential candidate Donald Trump, became embroiled in his own leaked audio scandal which caught him on a hot mic bragging about sexual assault.
Because the family that antagonizes together, stays together.
In July 2012, Trump Jr. was a guest on Opie and Anthony, a talk radio show cancelled in 2014 after co-host Anthony Cumia was fired for a string of racist tweets. (He was subsequently arrested for allegedly battering his girlfriend.) 
The shock jocks played clips of witnesses describing the Aurora, Colorado, movie theater shooting — in which gunman James Holmes killed 12 and wounded 70 others during a showing of Batman: The Dark Knight Rises. One person described the eruption of "gas and sparks," a sound "like really strong fireworks," people screaming and a girl nearby getting shot in the jaw. Trump Jr.'s response?
"Overall, I give the movie two thumbs up," he said. 
In another Opie and Anthony segment CNN released, this one from January 2012, the father of five suggests that overweight people are lazy and bemoans the fact that people get "really offended" by fat jokes. "It's easier to, like, do a racial thing, than it is a fat one," says Trump Jr. 
Among the other highlights from CNN's release are Trump Jr. barely restraining himself from calling Celebrity Apprentice contestant Dionne Warwick a "bitch," joking about the possible abuse of child beauty queens, making the blanket assumption that Muslim men are named either "Muhammad something or other" or "Ali" and, in a 2015 segment of Opie with Jim Norton (the show that replaced Opie and Anthony), defending his dad's newly announced policy of locking Mexican immigrants out of the U.S. It's a cornucopia of affronts.
Trump Jr. is, of course, the eldest son of a man who has always had difficulty maintaining his poise around a microphone. In addition to the Washington Post's hot mic revelations, CNN also dug up a 2006 recording of the nominee giving shock jock Howard Stern the green light to call daughter Ivanka Trump "a piece of ass," and fondly recalling barging in on Miss Universe contestants in their changing room. 
A penchant for appalling talk seems to run in the family.