Lin-Manuel Miranda just donated $100K to a theater in the heart of Dominican New York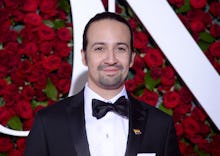 Lin-Manuel Miranda may now sit among the most famous playwrights in history due to his smash Broadway hit Hamilton, but he hasn't forgotten his roots.
On Sunday, the Tony award-winning actor and producer donated $100,000 to United Palace Theater, a landmark arts and cultural center in the heart of Washington Heights, the historically Dominican neighborhood where he grew up, and where he set his 2008 play, In the Heights. Miranda paired the announcement with a screening of the film Mary Poppins.
"This is a jewel box of a theater, especially with the death of the Ziegfeld Theatre," Miranda told Billboard, referring to another midtown Manhattan theater that closed in January. "This is the last great movie house in Manhattan. We have an opportunity to make this a destination. It's the most incredible theater. Anyone who walks in goes, 'I had no idea this was here.'"
His choice in screening Mary Poppins makes sense, considering Miranda was recently cast in the role of Jack for Mary Poppins Returns. However, his character will not to be a straight reprisal of Dick Van Dyke's chimney sweep that audiences grew up with.
"It's the same position. It's a different character," Miranda told Entertainment Weekly. "This takes place about 20 years after the original Mary Poppins film took place. But I get to be around for the adventures with Mary and the kids and sing and dance and do all the fun things ... Michael and Jane Banks have grown up, so this has to do with their kids."
The new role and the huge donation are just two of the numerous doors and opportunities Miranda has been able to pursue since the smashing success of Hamilton. Miranda left the show in July, and was able to raise $2 million for the Hispanic Federation through a Hamilton ticket lottery. That same month he also used his platform to raise money for Hispanic Federation's Proyecto Somos Orlando, releasing a charity song "Love Make the World Go Round" with Jennifer Lopez. 
"I put my money where my mouth is," Miranda told Billboard about his donation to the theater, yet his words fit any of his recent charitable enterprises.
"Hopefully people will put their money in and we'll make this a world-class place to watch movies," he added. "I want the world to discover it."
Correction: Oct. 24, 2016