Hate crime charges for Chicago area woman who hurled N-word and spat at black couple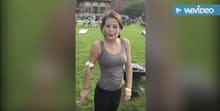 A woman who hurled the N-word and spat at a black couple during Chicago's Margarita Festival in late July is finally being held accountable for her actions.
Last week, Chicago police arrested and charged Jessica Sanders, 26, of Alsip, Illinois, with two felony hate crime offenses and two misdemeanor battery offenses, the Chicago Sun-Times reported.
Sanders reportedly appeared in Cook County Criminal Court on Oct. 15, where a judge set her bond at $50,000. She was released after posting 10% of the bond, according to the Sun-Times.
The couple targeted in the attack, Ernest Crim III and his wife, Cassie, did not immediately respond to Mic's request for comment Tuesday. In an August interview for Mic, the Crims said they had been trying to play bean bag toss game at the festival on July 30 when they were accosted by Sanders, who is white.
The woman is seen on smartphone video footage, recorded by Ernest Crim, using the word "nigger" several times during an argument with the Crims. Later, she is seen spitting at the couple. In the August interview with Mic, Cassie Crim said the woman's spit landed on her arm. 
The video went viral over the summer. 
The Crims told the Sun-Times on Monday that they were pleased to learn Sanders would face charges over the incident. "I feel that if you do the crime, then you should do the time," Ernest Crim said. 
Sanders, who works as a waitress, according to DNA Info, told the Sun-Times she was arrested at her job, although the arresting officers told her they'd only wanted to question her about the incident. Sanders has since acknowledged that she was "wrong" to use the racial slur against the Crims — but also bizarrely reasoned that she'd always believed the word to mean "ignorant person," not a slur against African-Americans.
"My best friend since I was 14 is black, and I lost her over this," Sanders told the Sun-Times. "People are saying I'm a white supremacist. That's not who I am," she added, also saying that she would fight the hate crime charges.
Ernest Crim said he doubts her claim that she's not a racist. "You used that word, probably 30 times before I even hit record, and then you spit on my wife? I think that's hate," he said.