Christina Aguilera 'X6': Rumors, collaborators, recent releases and more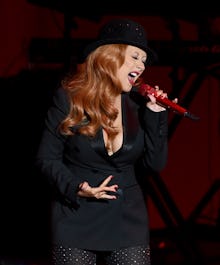 Looking down a list of the year's top releases, it might be hard for some to tell if it's 2016 or 2001. Green Day, Britney Spears, the Descendents, Sum 41 and JoJo have all released new records this year, and before years end we may have another early '00s legend in the mix: Christina Aguilera.
The number one bad girl of the early '00s took the year off from her duties hosting The Voice and has been hard at work on "multiple" albums, as she detailed for Entertainment Tonight in February. One is a followup to her debut Spanish-language album, 2008's Mi Reflejo, and the others: "a few solo projects with some incredible producers," as she phrased it. Fans have been discussing it under the codename X6.
"I'm super, super excited," she said. "I'm more inspired than I've been in a really long time. It's a really, really exciting time for me." She's already released two singles this year: "Change," a soft, heartfelt response to the Orlando shooting, as well as the uptempo, disco-inspired "Telepathy" for Netflix's The Get Down soundtrack. Both show Xtina in peak form and perhaps give a sample of everything we can expect from the album(s) she's aiming to drop before the year ends.
She's linking up with some of her go-to producers and one of pop's finest.
In that Entertainment Tonight interview that kicked off the speculation, Aguilera said she was "reuniting" with some of her past producers to make some "classic magic."  
In a 2015 interview with Wonderwall, Aguilera mentioned who one of those would be. "I'm reuniting with some old producers that I have always had a long time connection with, including Linda Perry who I did 'Beautiful' with," she said. "We have such a beautiful chemistry and connection." That song earned her a Grammy award for best female pop vocal performance. 
"Mike del Rio, Alex da Kid and Max Martin" are three other possible suspects, according to Josep Vinaixa of Ultimate Music. 
She will also supposedly be working with her Voice co-host Pharrell Williams. "During my pregnancy, I had a meeting with him and just connected on where I want to take the next album, and we started talking music, and he has one song in particular that I love," she told ExtraTV. Funnily enough, despite Williams producing several of the early '00s biggest hits with the Neptunes, including Britney Spears' "I'm a Slave 4 U" and N'Sync's "Girlfriend," he and Aguilera don't have a studio album credit together — yet.
There will be some new faces, too, including Elle King and Da Internz.
"Caviar rachet" is how the Internz, hitmakers responsible for Rihanna's "Birthday Cake" and Nicki Minaj's "Anaconda," described the music they were working on for Christina Aguilera's new album back in January 2015.
"It's upper echelon music with ratchet hood drums," the duo told Rap Up. "You want to know what Christina's music sounds like? 14K caviar ratchet serving with three finger tips."
Aguilera is also bringing in some upcoming folk rock talent as well. In an April issue of Elle, Aguilera said she had been listening to a lot of Elle King, the songwriter behind the surprise breakout hit "Ex's and Oh's." 
"She's raw, relatable, and a little gritty," Aguilera said. "She she has a really honest approach to telling a story." For good measure, the magazine added that Aguilera had "tapped [King] for songwriting help on her own upcoming album."
The album may have some profoundly zen moments.
Christina hasn't said much about exactly what she's looking to channel on the new album, other than the vague desire to "pour my heart out into this record fully," as she told Extra TV. However, she has mentioned yoga as a source of inspiration.
"Taking a love for yoga and breathing ... not looking at it as an exercise, but just feeling more one with the Earth and everyone being connected, it'll definitely have a reflection on the new record," she told ABC News according to Bustle. 
When considering this next to Da Internz's "caviar trap" description, it seems like Aguilera is experimenting with just about everything for the new album. We'll see what actually makes the final cut when the timeline for X6 begins to come together.
October 19, 2016, 8:19 a.m.: This story has been updated to more clearly reflect the upcoming album's place in Aguilera's studio catalog.