NYPD sergeant kills Deborah Danner, a black woman who neighbors say was mentally ill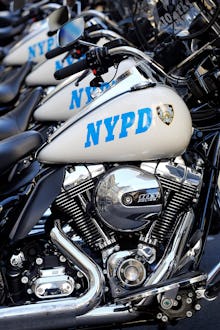 A black woman said to be living with a mental illness was shot and killed by a New York police sergeant in her Bronx, New York, apartment Tuesday evening, the New York Daily News reported. Police officials say the woman allegedly wielded a bat at a police sergeant.
Officers entered 66-year-old Deborah Danner's home around 6 p.m., after a neighbor complained Danner was acting "in an irrational manner," the Daily News reported. Sgt. Hugh Barry, an eight-year New York Police Department veteran who was identified as the officer who shot Danner, opened fire after the woman allegedly lunged at him with a bat.
NYPD Commissioner James O'Neil said Wednesday morning that the officer did not follow the established protocol for dealing with people who are mentally ill. "Our policy is isolate and contain," O'Neill said, according to the Daily News. "What's clear in this instance is that we failed."
"As she attempted to strike the sergeant, he fired two shots from his service revolver, striking her in the torso," Larry Nikunen, the NYPD's assistant chief for the Bronx, said, according to the Daily News. "The sergeant was armed with a Taser. It was not deployed, and the reason it was not deployed will be part of the investigation and review."
Danner died at a nearby hospital around 7:15 p.m.
"That's not how it's supposed to go," O'Neill said of Barry's conduct. "When a life is taken as it was last night you have to ask tough questions and that's what we will do."
Barry has been placed on modified duty and stripped of his service weapon, while authorities conduct the investigation, an NYPD spokesman confirmed. Ed Mullins, the president of the NYPD Sergeants Benevolent Association, has called the shooting justified and criticized police leaders for placing Barry on modified duty, the Daily News reported.
Local activists have planned an "emergency action" demonstration outside of Danner's apartment building for Wednesday evening, to call out what they consider an excessive use of force against the woman who may have been in the midst of a mental health crisis. The protest group NYC Shut It Down publicized the action with theme "#AllBlackWomenMatter."
Kei Williams, a lead organizer with Black Lives Matter NYC, said Wednesday morning that early reports of Danner being "deranged" dehumanizes her and other black and mentally ill victims of police violence.
"As we have seen in many cases across this country where the police are called as a response to a mentally ill person having an episode — and that person ends up being murdered by officers," Williams said in an emailed statement, also referencing the death of Alfred Olango, a black immigrant fatally shot in September by police in a suburb of San Diego.
Williams' statement continued, "Unfortunately, first response for any emergency in this country is to call 911 — and increasingly black people are being shown repeatedly that if there is any type of crisis to not call the police. What message does that send to our community?"
Bronx borough President Ruben Diaz Jr. has also called the shooting unacceptable, the Daily News reported. "This elderly woman was known to the police department, yet the officer involved in this shooting failed to use discretion to either talk her down from her episode or, barring that, to use his stun gun," Diaz said.