Azealia Banks calls hip-hop legend RZA "chump," severs deal over Russell Crowe incident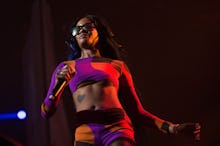 It's still unclear what happened at a Hollywood hotel party Saturday between Azealia Banks and actor Russell Crowe, but Banks is calling out RZA for his role in the ordeal. She's now allegedly backing out of the record deal she was working out with the Wu-Tang cofounder.
In an interview with TMZ, Banks said that she's cutting all ties with RZA after he didn't stand up for her during and after the incident, in which Banks accused Crowe of physically assaulting her at a private party that he was hosting. "RZA doesn't have much clout in a room full of real, high-powered Hollywood white men... he just stood there like a chump," Banks told TMZ. "If these guys can chump you out like that, that's not somebody I need to attach myself to... I can't be represented by some chump."
In a since-deleted Facebook post, Banks said that Crowe "called me a nigger, choked me, threw me out and spat on me." Banks told TMZ the incident started over "bruising male egos" and "a lot of trying to put me in my place," she said, as reported by Consequence of Sound. She added that it "kind of backfired, 'cause I'm just as quick and witty."
Crowe and several witnesses present at the party have denied Banks's version of events, insisting that Banks was the aggressor and Crowe did not use any racial slurs, according to a report from the Los Angeles Times. 
Whatever happened in that Los Angeles hotel room appears to be yet another setback for Banks, who continues to establish herself as one of this generation's most talented and controversial artists. 
She has routinely spoken out about racism, sexism and homophobia in the recording industry, and simultaneously seems to seek out opportunities for high-profile drama. In one instance earlier this year, Banks called British R&B singer Zayn a "curry-scented bitch," after accusing him of stealing concepts for a music video, prompting backlash from critics and fans and a suspension from Twitter. She has also defended her use of skin bleaching cream, drawing heated pushback from across the internet. 
Even longtime fans are often at a loss for what to think.
Banks promises that she has "receipts," likely security camera footage, to back up her story. As she recommended on Facebook: "Stay tuned."