Nintendo Switch Reveal: Nintendo snuck footage of a new 'Mario' game into the trailer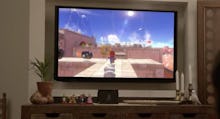 Thursday morning, Nintendo finally revealed its brand-new console: the Nintendo Switch.
In the trailer for the Switch, which functions as a hybrid between a handheld console and a traditional home console, you can see footage of a woman playing a brand-new 3-D Mario platformer:
Nintendo has yet to release any official information about the game yet, but it looks to be structured very similarly to Super Mario 64. Unlike recent 3-D Mario titles, such as Super Mario 3-D World, this Mario game seems to be focused on a single-player experience.
Watch the full trailer below: