Al Smith charity dinner video: Watch Donald Trump and Hillary Clinton roast one another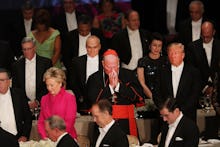 Donald Trump and Hillary Clinton took turns sparring at one another at the annual Al Smith Charity Dinner on Thursday night — a white-tie affair that benefits Roman Catholic Charities. They both had good zingers, and here are a few of the night's best.
Trump went first.
"This is the first time Clinton is speaking to leaders, and not getting paid for it."
"This one's gonna get me in trouble..."
"Many people tell me that modesty is perhaps my best quality."
Then, Clinton took the mic.
"I just want to put you all in a basket of adorables."
"I'm not eligible for sainthood, but getting through these debates with Donald is a miracle."
And, finally, Clinton ended the night on good note. "Let's remember what unites us, and just rip on Ted Cruz."
At least they can laugh about what's been a mess of an election.