Run the Jewels return with "Talk to Me," another prime mixture of punk and politics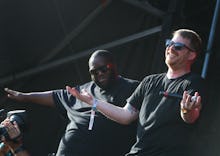 Run the Jewels, the politically incendiary rap duo of Killer Mike and El-P, are back — just in time to give Americans one last piece of food for thought before they head to the polls on Nov. 8.
Exactly two years to the day after their previous album, Run the Jewels 2, dropped, the group has returned with the first offering from their highly anticipated third studio album RTJ3. The song, titled "Talk to Me," features the same variety of riotous, anarchic swagger raps and political acrimony the band has become notorious for blending. It drops via Adult Swim's Singles program and is free to download on the network's site.
Fresh off of stumping for Bernie Sanders, Killer Mike brings most of the political acumen to the table, while El-P offers a more typical shit-talking verse. The Atlanta emcee takes aim at Trump, positioning his return to music as a homecoming from a "war with the devil and shaytan." 
"He wore a bad toupee and a spray tan," he raps.
Killer Mike gets in a nod to the Black Lives Matter movement, which he's been a fervent proponent of, specifically calling out those who have tried to discredit the movement with the opposing hashtag "All Lives Matter."
Born black, that's dead on arrival
El-P takes up a similar mission in his own verse, paying homage to all the Americans that fell so he could enjoy the freedom to spit whatever vitriol he wants.
Brave men didn't die face down in the Vietnam mud so I could not style on you
The group has spent much of the past year apart, with Killer Mike campaigning for Bernie Sanders and entertaining a gubernatorial run, and El-P holing up in the lab working on beats. Despite both of their lives taking very different paths this year, the track shows they're still very much in tune with one another, and with Run the Jewels' mission to unite the fuckery and revolutionary in rap.
"You know, me and Mike, for us, Run the Jewels is about a friendship," El-P explained to the Fader in July. "Even us just joking around, we feel it is — in these times — somewhat of a healing gesture ... Sometimes we will say things that reflect all of this bullshit, and sometimes we'll just joke around with each other because it's about humanity."
There's no release date set for Run the Jewels 3, but now that its first single is out in the world, expect more very soon.
You can listen to and download "Talk to Me" here.