Renewable energy just got bigger than fossil fuels by one key measure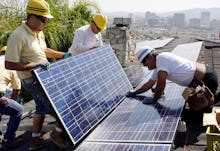 A clean energy record has been broken. In 2015, 153 gigawatts — more than 50% — of all installed power capacity was made up of renewable energy, including wind and solar power. In other words, new green power surpassed installations for fossil fuels like coal, according to a new International Energy Agency report.
Fossil fuels are still the main source of electricity for the globe, but the shifting installation numbers show change is afoot.
Among types of installed energy capacity, solar dominates: Half a million solar panels were put up globally every day in 2015.
"We are witnessing a transformation of global power markets led by renewables and, as is the case with other fields, the center of gravity for renewable growth is moving to emerging markets," Fatih Birol, IEA executive director, told Bloomberg.
Interestingly, it is some of the world's biggest polluters, including the United States and China, driving this transformation.
"China remains the indisputable global leader of renewable energy expansion, representing close to 40% of growth," the report said of renewable power capacity expansion. 
Why is this happening?
Combating climate change is a growing global priority — see the recently ratified Paris Agreement — and that comes with an increasing demand for renewable energy sources.
By 2021, the report predicts, worldwide green electricity capacity will have grown by 42%.