No, DeRay Mckesson's Clinton endorsement is not Black Lives Matter's endorsement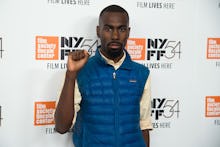 Prominent activist DeRay Mckesson endorsed Democratic presidential candidate Hillary Clinton in an op-ed published Wednesday by the Washington Post.
"I'm voting for Hillary Clinton," he declared in a statement that does not mention Black Lives Matter. "Clinton's platform on racial justice is strong: It is informed by the policy failings of the past and is a vision for where we need to go."
He said he believes the former secretary of state understands the urgency of racial injustice. He cited her stance on curtailing police use of force, redirecting nonviolent drug offenders into rehab instead of prison and protecting voting rights.
Mckesson is the co-founder of the policing reform initiative Campaign Zero and is often labeled a leader of Black Lives Matter, which started in 2013. But don't get it twisted, other activists from BLM-affiliated organizations said. Mckesson is not speaking for dozens of Black Lives Matter Global Network chapters or other groups, who see endorsements as legitimizing systemically racist institutions.
"The BLM Network has held a firm position of not offering endorsements at the presidential level," BLM co-founder Alicia Garza said in a statement to Mic. "No candidate has sufficiently engaged our concerns or our vision to earn an endorsement."
Garza said Mckesson is free to make his own personal announcement about who he'll vote for, as are other individuals in the movement.
"But it's dangerous and false to assume that when individuals make those choices, they do so on behalf of an entire movement," Garza said in the statement. "This announcement should be seen as an individual decision, not as a reflection of a consensus in a broad-based movement comprised of many different elements."
Other activists and supporters of the movement also spoke out about Mckesson's announcement.
"The movement does not endorse Hillary Clinton," Zellie Imani, lead organizer of the Black Liberation Collective, a network of black college activists, said Wednesday in a text-messaged statement to Mic. "Many of us recognize endorsement of individuals does not, and will not lead to the radical changes that we are looking for."
On Wednesday morning, Mckesson's endorsement drew mixed reactions on social media.
Mckesson bookended his endorsement with the words of black civil rights icons Shirley Chisholm and Fannie Lou Hamer, and mentioned that he is looking to Clinton for more than just "symbolic" rhetoric that does nothing to dismantle "oppressive systems" in the U.S. He said her policy proposals in a meeting with the presidential candidate on Friday proved that she was committed to this work. 
"Perhaps most impressively, she calls for a $125 billion Economic Revitalization Initiative that is akin to a new New Deal, structurally investing in youth employment, re-entry, small-business growth and homeownership," Mckesson wrote in the op-ed.
As the Black Lives Matter movement grew globally, it joined a collective of over 50 organization known as the Movement for Black Lives. In August, the movement released "A Vision for Black Lives," its sweeping policy platform that calls for divestment from law enforcement and investment through reparations in education, jobs and infrastructure for black communities.
But even if Clinton's platform reflects some of the movement's demands, an endorsement isn't in line with many activists' agendas, Imani said.
"The movement will continue to stand face-to-face, and not side-by -side, with these oppressive systems and the people within them," he said.
Oct. 26, 2016, 4:53 p.m Eastern: This story has been updated.