Black Lives Matter activists weigh the cost of a Hillary Clinton endorsement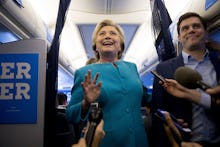 Andrew Harnik/AP
The protest movement known as Black Lives Matter has positioned itself as a group of consummate outsiders. They stand defiantly in protest against instances of police violence. They don't defer to the demands of establishment politicians.
This much was clear last fall, when the Democratic National Committee passed a resolution in support of Black Lives Matter that the group summarily rejected. In a statement, the Black Lives Matter network — a coalition of dozens of groups across the country — explained its position in detail: 
While the Black Lives Matter Network applauds political change towards making the world safer for Black life, our only endorsement goes to the protest movement we've built together with Black people nationwide — not the self-interested candidates, parties or political machine seeking our vote.
But this week, two prominent activists associated with the Movement for Black Lives publicly endorsed democratic presidential nominee Hillary Clinton, signaling a split between the network's radical and more moderate members.
With less than two weeks until election day, DeRay Mckesson, one of the most prominent figures in the Black Lives Matter movement, and Brittany Packnett, an executive for Teach for America and prominent voice on social media, have both come out publicly in support of Clinton. Mckesson, who lost a bid for Baltimore mayor earlier this year, published an endorsement of the candidate Wednesday morning in the Washington Post, writing that his opinion of Clinton has changed as she's solicited feedback from key stakaeholders Meanwhile, Packnett spoke favorably of Clinton in an interview with Elle and during a segment on CNN.
Mckesson and Packnett are trained educators who have been criticized for their involvement with Teach for America, a popular but polarizing nonprofit that places high-achieving college graduates in under-resourced pre-K through grade 12 classrooms. They've both amassed thousands of followers on Twitter by documenting protests, and worked together with a smaller branch of activists to release Campaign Zero, a political platform that aims to end police violence.
Both endorsements come as Clinton has stretched her lead in national polls after three strong debate performances. Meanwhile, other movement members like Black Lives Matter Chicago member Aislinn Pulley, have staunchly refused overtures from President Obama's administration.
Both Mckesson and Packnett have accepted invitations and met with presidential candidates and members of President Barack Obama's administration. Packnett serves on the president's Taskforce on 21st Century Policing. Last week, Packnett and Mckesson met with Clinton in Cleveland. That meeting was enough to convince them that the candidate represented a path forward.
"I don't believe there's a perfect candidate," Packnett said in an interview with Mic. "There are lots of places where the secretary is expecting to be held accountable by us. Putting us in the position on Nov. 8 that can move us forward on Nov. 9 is imperative. We need to use every single tool we have to our advantage."
Alicia Garza — one of three activists who created the #BlackLivesMatter hashtag and a leader in the movement — noted that endorsements were personal decisions on behalf of people within the movement, but do not speak for the larger network, "Individuals within the movement are of course free to make their own decisions when they vote or if they vote," she said. "But it's dangerous and false to assume that when individuals make those choices they do so on behalf of an entire movement."
Garza reiterated the larger network's refusal to endorse any presidential candidate. "No candidate has sufficiently engaged our concerns or our vision to earn an endorsement," she said this week.
Packnett acknowledges that she's received pushback from other movement members for her endorsement of Clinton. "There can be one goal and many ways to get there," Packnett said. "That makes us a healthier movement and a healthier country."
Even developing a political platform with concrete demands for change has splintered the network. In August, the Movement for Black Lives released its long-awaited political platform, which included demands to grant reparations to black communities harmed by institutional racism, and to end capital punishment and Teach for America. That platform was developed by a policy roundtable of about 40 organizations across the country. In November of 2015, Mckesson and Packnett, along with other notable activists like Johnetta Elzie, released Campaign Zero, a different platform laser-focused on ending police violence in the United States that advocates increasing the use of body cameras and limiting situations in which officers are allowed to use deadly force.
The split has also been noticeable on the campaign trail, where activists affiliated with Black Lives Matter protested at campaign events held by both Clinton and Bernie Sanders. In one instance in February, activists confronted Clinton about her use of the term "superpredators" in the 1990s to describe young people of color who'd found themselves in the crosshairs of the criminal justice system. Clinton apologized for using the term, but not before the incident was seized upon by Clinton's opponents and used by both Bernie Sanders and Donald Trump.
All factions offer solutions to seemingly intractable racial injustices in the United States. But they also offer a peek into the different worldviews of the activists and organizers who've come together under the banner of Black Lives Matter. Some propose challenging institutional racism at least in part by working with lawmakers to find solutions. Others are intent on dismantling that system altogether, lawmakers be damned.