Oregon's armed ranchers were found not guilty — showing us exactly how whiteness works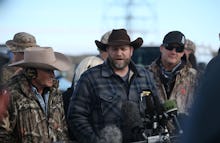 A federal jury acquitted Ammon Bundy and six other armed ranchers Thursday. They were found not guilty of weapons and conspiracy charges for their weeks-long armed takeover of a federal wildlife facility in Oregon in January.
They were innocent because they were white.
At least that's the conclusion of plenty of observers who sounded off on social media, who noted that black people who protested the deaths of unarmed men and boys were often met with brutal force from police and the full brunt of the law.
Bundy and his crew of armed ranchers were largely left alone for weeks by law enforcement as they brandished guns and advocated for their rights to federal land. The armed ranchers' fight was deemed important enough to exist. And then, on Thursday, those rights were validated. 
Yet nowhere was this double standard more clear than in Morton County, North Dakota, where over 140 people, including Native American and environmental activists, peacefully protesting the Dakota Access Pipeline site on the Standing Rock Sioux reservation were arrested by armed police on Thursday. Those police alleged protesters set a bridge on fire, so they went to the scene in riot gear.
The acquittal of the armed ranchers shows us exactly how whiteness works. White people are presumed innocent, then you're proven innocent. For people of color, the presumption is often guilt, whether it's while protesting police violence or protecting a sacred natural resource.