The real reason why poorer children go to richer neighborhoods for trick-or-treating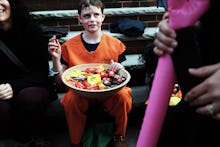 There's a two-year-old, Halloween-themed installment of the "Dear Prudence" advice column, in which the advice-seeker expressed outrage over young trick-or-treaters who come to affluent neighborhoods "in overflowing cars from less fortunate areas."
"I feel this is inappropriate," the advice-seeker wrote, also wondering if that sentiment was overly cruel. "Halloween isn't a social service or a charity in which I have to buy candy for less fortunate children," the letter writer added.
Aside from being a curmudgeon, the real reason why the letter writer noticed the invasion is that, over the two decades, income inequality between neighborhoods has widened. The availability of disposable income for Halloween candy, as well as the quality of one's sidewalks, streetlights and auxiliary police services — all things seen as essential for safe and enjoyable trick-or-treating — can be determined by zip code and tax bracket. Rather than wrestle with the town council for better basic municipal services, it's perhaps a lighter lift for parents to take less fortunate children trick-or-treating at the nearest shopping mall or in richer neighborhoods where Costco-sized candy bars are more abundant.
From 1990 to 2010, the last time the U.S. Census Bureau took a full count and survey of the nation, inequality grew between the top and bottom urban, suburban and rural census tracts, a 2015 analysis by the Urban Institute, a Washington, D.C.-based think tank, found. The average annual income of top-earning households grew 12% from $123,000 to $138,300, in 2012 U.S. dollars, according to the institute's report, "Worlds Apart: Inequality between America's Most and Least Affluent Neighborhoods."
Meanwhile, average annual income in the poorest census tracts grew less than 1% from $36,800 to $37,150. This means that most of the income growth seen over the last two census-tracked decades went to already advantaged Americans, Carl Hedman, an Urban Institute research assistant, said in a phone interview.
Philadelphia; San Jose, California; San Francisco; Milwaukee, Wisconsin; and Los Angeles are the top five U.S. cities to go trick-or-treating in, according to a list compiled by online real estate database company Zillow. The website's Trick-or-Treat Index weighs median home value, housing density, population age and crime, in its annual listing of the top 20 cities.
Zillow lists San Francisco's affluent Presidio Heights, Glen Park and St. Francis Wood neighborhoods as the city's top trick-or-treating destinations. Boston-based newspaper editor Zuri Berry said that, although he grew up in San Francisco's historically black and middle class Fillmore neighborhood, his father would take him and his siblings to their grandmother's upper middle class Oceanview community, where it was easier to walk from door to door.
"It was all about the candy — the number one thing was the candy," Berry said in a phone interview. He could hit 10 or 15 homes in Oceanview and come out with a much better haul than in his own neighborhood, he said.
"If we did go trick-or-treating in our neighborhood, there often wasn't that many people [giving candy out]," Berry said in the phone interview. Berry's friends who were from less fortunate San Francisco neighborhoods, such as Bayview-Hunter's Point, more often than not celebrated Halloween outside of their community, he added.
Halloween trick-or-treating safety guides are written for parents with the seeming assumption that all other things — municipal services included — are equal. "Remain on well-lit streets and always use the sidewalk," the American Academy of Pediatrics advised in its 2016 Halloween safety tips. The federal Centers for Disease Control website offers similar advice.
But what are families to do if they live in neighborhoods that are not well-lit, evenly paved and patrolled by police, either due to willful neglect or ineffective management by city leaders? Failing to provide basic municipal services has previously been deemed a violation of the Fourteenth Amendment's equal protection clause, particularly when the neglect is based on race and poverty.
In Hawkins v. Town of Shaw, a 1969 case heard by the United States Fifth Circuit Court of Appeals, a panel of judges found that the mayor and aldermen of Shaw, Mississippi, had violated the equal protection clause by providing tax-funded services, such as street paving, lighting, sewage, water mains, fire hydrants and surface water drainage, on on a racially discriminatory basis. The class action case was brought by the town's black residents.
"Municipal services of the not merely nice-to-have but necessary variety have been slow to receive national attention and concern primarily because they are a peculiarly local function, supported and therefore administered almost totally without the assistance of the federal or state governments," wrote the author of a 1972 article for the Villanova Law Review, titled "Potholes, Lampposts and Policemen: Equal Protection and the Financing of Basic Municipal Services in the Wake of Hawkins and Serrano."
If Halloween is about sending children door-to-door in their own communities, where neighbors have invested interest in their enjoyment, safety and well-being, it arguably stopped being that as inequality between rich and poor grew. Knowing that, it's perhaps no surprise that "Prudence" had a searing response to the letter writer who complained about the influx of less fortunate trick-or-treaters.
"Your whine makes me kind of wish that people from the actual poor side of town come this year not with scary costumes but with real pitchforks," she wrote in the reply. "Stop being callous and miserly and go to Costco, you cheapskate, and get enough candy to fill the bags of the kids who come one day a year to marvel at how the 1 percent live."