Bill Cosby blackface Halloween costume gets white Arkansas college student expelled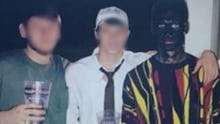 University of Central Arkansas sophomore Brock Denton's decision to don blackface as part of a Bill Cosby Halloween costume has resulted in his expulsion from college and the suspension of his fraternity, Fusion reported.
Denton, who is white, reportedly wore the costume to a party thrown Friday by UCA's Sigma Tau Gamma chapter. Soon after, a photograph of him surfaced on social media. 
Within a day, Denton's actions were condemned in a statement by university president Tom Courtway.
"This picture is highly offensive and repugnant, and this representation goes against all we at UCA believe in and stand for," Courtway said in a handwritten message photographed and posted to the university's Twitter account. Beyond Denton's expulsion, Courtway also promised an investigation.
"This institution embraces all races, cultures and nationalities," the president said in the statement.
The university also announced on Saturday via Twitter that the national headquarters of Sigma Tau Gamma had suspended the UCA chapter.
In recent years, there's been no shortage of stories showing what happens to white students who think blackface for Halloween, or other racially themed costumes, is a brilliant idea. But judging by the apology he posted and then deleted from Instagram over the weekend, Denton hadn't registered any of them.
UCA's student newspaper, the Echo, took screenshots of Denton's now-deleted apology, where the sophomore claimed he had never heard of blackface or the racism it evokes before the offending incident, Fusion reported. 
"Within a matter of a few hours social media has made me out to be a monster, a racist, a supremacist and those are just three of the many hateful names I have been called," read a post from the Instagram account @chewbrockaaa.
"I apologize from the bottom of my heart and absolutely never intended this to happen the way that it did," the post said.
If Denton hadn't donned blackface for the costume, he'd likely still have to explain why he chose to dress as Cosby. The disgraced TV sitcom actor is facing trial over allegations he drugged and raped multiple women.