Alicia Keys' 'The Gospel' plays like an updated, far more critical "Empire State of Mind"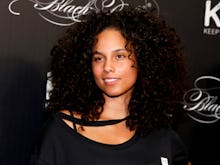 Alicia Keys's booming vocals on 2009's Jay Z track "Empire State of Mind" has become a classic ode to New York City's greatness. Now, Keys is back with a new short film, The Gospel, which shows off her hometown in all of its gritty resiliency. 
The short film comes days before the release of Keys' sixth studio album, Here, which she's described as her most "honest and raw creation yet." The film includes several of the album's songs, including "Pawn It All," playing them over the NYC backdrops that Keys say have inspired her all her life. The 20-minute visual is currently available exclusively on Tidal, but a one-minute preview is available for those on the outside of the Tidal camp.
The film made a surprise debut at the Tribeca Film Festival earlier this year, to good reviews. Vibe described the song, which is expected to appear on the album and serves as the film's title, as a "soundscape that talks about the family dynamic of those living in underprivileged communities." 
That point is clear from the outset, as audio of two New York City police officers plays describing an instance in which an officer planted a gun on a person they detained for weed possession as a way to "have a little fun" on the job. 
It's the New York City beyond the bright lights, a city of harrowing highs and relentless lows populated by survivors. Here is expected to drop on Nov. 4.