With #SwipeItForward, NYC activists call out unnecessary policing of poor people of color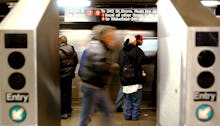 NEW YORK CITY — In an ambitious protest action, advocacy groups across New York City on Wednesday are offering free subway fares at stations that serve primarily black, brown and poor commuters.
Activists plan to swipe commuters through turnstiles during the morning and evening rush hours. They also would encourage unlimited Metrocard holders to swipe someone else in as they exit stations.
Members of Black Lives Matter NYC, the Black Youth Project 100 and the Black Alliance for Just Immigration, among other groups, said they have one goal with this protest. They want to send a message to law enforcement — that it's cruel to arrest and fine vulnerable commuters simply because they don't have $2.75.
"A system that was built for the working class is now victimizing them," — Albert Saint Jean
"A system that was built for the working class is now victimizing them," Albert Saint Jean, a BAJI representative and an organizer of the #SwipeItForward campaign, said in an email to Mic on Tuesday. Activists have planned to stage the campaign at nearly a dozen stations in Brooklyn, the Bronx and Manhattan's Harlem neighborhood.
People who hop the turnstile or enter an MTA subway on someone else's Metrocard can, in certain cases, receive a $100 ticket or be arrested for "theft of service," as it's called in the transit rules of conduct. 
It is not illegal for the activists to offer swipes to commuters, so long as doing so doesn't violate New York City rules prohibiting the solicitation of a swipe, a spokesperson for the New York Police Department said in an email to MIc.
According to statistics cited by the #SwipeItForward campaigners, it costs the city over $50 million a year to crack down on fare evaders, who often live below the federal poverty line. If the city invested what it spends on fare evasion in unlimited Metrocards for the working class, it could significantly help cut the police budget, Jean said. 
"We're not saying that is our proposal, but we are pointing out just how expensive over-policing is for taxpayers," he said.
Wednesday's campaign also serves to highlight intersectionality. It's not just black, brown and poor people, but those who are also homeless, immigrants or part of LGBTQ communities, who are more likely to encounter NYPD officers in the subway system.
Maddox Guerrilla, a 20-year-old black transgender man, said he had been commuting to a new job in December 2015, when officers arrested him on the train at 145th Street. Guerrilla, who had been unemployed for months, did not have the money to pay the fare — and he also had an outstanding warrant for an unpaid infraction.
"I'm just trying to get to work to make money so that this doesn't have to happen," Guerrilla said in a phone interview Tuesday. Finding steady employment can be especially difficult for transgender individuals, who face discrimination because of stigma around their gender identity, advocates say.
Guerrilla's employer — a vendor with a booth in the Union Square Greenmarket — didn't believe him when, a week after missing a day of work because of the arrest, he was arrested on fare evasion again. This time, Guerrilla was transferred to central booking downtown, fingerprinted and detained for 24 hours in a women's jail. He also lost his job.
"On a regular basis, I am targeted because of my race, class and gender," Guerrilla said. "If you are a white cisgender male, you're going to think that's absurd. But people should not be going to jail for trying to get to a destination."
Campaigners said 92% of the nearly 30,000 fare evasion arrests made in 2015 were people of color, citing recent state criminal justice statistics. And 87% percent of them were young people, they said.
The enforcement strategy in subway stations is a "response to the specific and repeated complaints from members of the public," the NYPD spokesperson said in the email. "These arrests and summonses are not race-based. Officers have the ability to use discretion in the issuance of summonses," the spokesperson added.
According to a 2015 quality-of-life assessment by former NYPD Commissioner William Bratton, there are 1.7 billion subway entries annually. Approximately 95,000 people were stopped by police for fare evasion in 2014. Seventy-one percent of those fare hoppers were issued tickets by Transit Adjudication Bureau, according to the assessment.
Despite the NYPD's claim that they weren't targeting minorities, broad policing strategies, like the now-defunct, ineffective and unconstitutional stop-and-frisk proved otherwise. This kind of enforcement is part of "broken windows" policing that Bratton championed for decades as police executive. In 1990, Bratton, who was chief of the New York City Transit Police, decided officers would no longer "ignore the little things," he wrote in his 2015 quality-of-life report.
"Fare evasion and graffiti would no longer be considered too petty to address," Bratton wrote. "Why? Because serious crime was more likely to occur in a lawless environment — and ubiquitous low-level disorder signaled lawlessness even more than serious crime, which was less common."
But what's criminal about helping a friend who can't afford the subway? This question came from union organizer Carolina Mendoza in a recent phone interview. The 30-year-old immigrant from Ecuador said two undercover transit officers stopped and ticketed her in April for swiping an unlimited Metrocard for her friend and then hopping the turnstile for herself. (Unlimited cards can only be swiped every 18 minutes, according to transit rules.)
"I paid for an unlimited Metrocard — that should pay for me, that should pay for [my friend] and for five more people," Mendoza said in the interview. 
Mendoza said her friend was arrested because he could not show a valid ID. He was fingerprinted and released — a source of anxiety in immigrant communities, Mendoza said. "That's definitely a pretext to getting people into the system, especially immigrants," she said.
The #SwipeItForward campaign is in line with the Movement for Black Lives' policy platform, "A Vision for Black Lives." Released in August, the platform called for "an immediate end to the criminalization and dehumanization of black youth across all areas of society," as well as black immigrants and black LGBTQ individuals.
"The #SwipeItForward action really works to dismantle broken windows policing." — Jewel Cadet
"The #SwipeItForward action really works to dismantle broken windows policing," Jewel Cadet, co-chair of the New York City chapter of BYP100, which has endorsed the movement's platform, said. "But this is about the community — not a direct action toward the police. We are engaging with the community, empowering them and informing them of their right to help each other."
Nov. 2, 2016, 5:28 p.m. Eastern: This story has been updated.