Lil Wayne argues that because he's rich, black lives matter in the US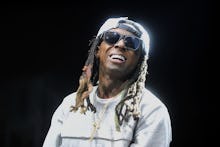 Black Lives Matter may have galvanized a political movement and energized rap's biggest stars, but Lil Wayne isn't moved.
In an interview with ABC Nightline, the New Orleans-born rapper is asked for his thoughts on Black Lives Matter, and Wayne acts as if he was hearing about it for the first time.
"What is it?" Wayne says. "What do you mean?"
When the interviewer explains the movement, Wayne sounds unimpressed. "That just sounds weird," he responds. "I don't know, that you put a name on it. It's not a name, it's not, 'whatever whatever.' It's somebody got shot by a policeman for a fucked up reason."
And then, it gets much, much worse, with Wayne veering his answer into the most grossly self-absorbed, misogynistic territory imaginable: 
"I am a young, black rich motherfucker," he continues in the edited clip. "If that don't let you know that America understand black motherfuckers matter these days, I don't know what it is. That man white, he filmin' me. I'm a nigga. I don't know what you mean, man. Don't come at me with that dumb shit, man. My life matter. Especially to my bitches."
It's not the first time Wayne has seemed disastrously out of touch with the ongoing movements for black lives. Back in September, the self-described "best rapper alive" recounted to FS1's debate show Undisputed that he'd performed in front of an all-white audience in Westchester, New York. 
"I thought that was clearly a message that there was no such thing as racism," he said. 
In both clips, Wayne acts as if he's just learning about Black Lives Matter for the first time. Yet, in the swift backlash Wayne's remarks suffered on Twitter, users began sharing clips of the rapper shouting out the movement at concerts.
"Clothes don't matter," Wayne shouts in one clip. "Cars don't matter. Nothing else matters cause black lives matter, bitch!" We obviously have two very different Lil Waynes on our hands, willing to alter his message based on the context.
Wayne has built his career off of being one of the most gifted lyricists in rap. But now, more than ever, substance matters. All you've got to do is look at the sisters Knowles, who've both had number one albums this year laden with deeply political content, or Kendrick Lamar or J. Cole or Chance the Rapper, to understand that there's work to be done, lyrical and otherwise, to identify and dismantle the roots of systematic racism in this country.
Erykah Badu probably said it best: "What good do your words do, if they can't understand you."
And right now, nobody understands what Wayne is talking about.