"Dear Child" is a heartbreaking video that shows black parents giving "the talk"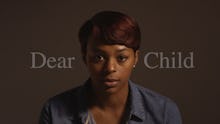 In black communities, "the talk" — the sit-down that parents have with their children about how racism may traumatize or kill them — has a particularly devastating staying power. 
Preparing your child for life is any parent's job, but too many guardians of black children wind up having to explain to them the inevitability of their deaths — too often at the hands of police. High-profile shootings of Trayvon Martin, Michael Brown and Tamir Rice have made that talk all too real for countless black families. 
That reality is rendered in devastating detail in a new video from the Jubilee Project, a nonprofit storytelling platform. In it, black parents give "the talk" to the camera, allowing viewers a look into one of the hardest realities of parenting. 
In gut-wrenching detail, the parents take turns to say the following to their children:
Dear child, 
This is the reality we've given our children, and it's one that people outside of black communities in the United States are finally beginning to understand.