Bronx man holding glass bottle dies after being Tasered by NYPD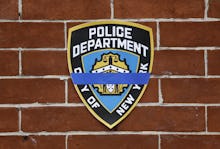 New York City police stunned a 49-year-old Bronx man to death Wednesday after he allegedly threatened officers with a glass bottle, the New York Daily News reported. 
The man's name had not been released by authorities Thursday morning. An upstairs neighbor told the Daily News the man was a deli worker and "a real good man."
The New York Police Department said they received a 911 call Wednesday afternoon about an emotionally disturbed man who had reportedly threatened another neighbor with a knife at their Victorian-style home in the Pelham Bay neighborhood.
After three officers and a sergeant arrived on scene, they were directed to a basement apartment where they found the 49-year-old man. The sergeant used a stun gun twice on the man, who went into cardiac arrest. The man died at 7:22 p.m. in Einstein Hospital, the Daily News reported.
The newspaper's sources identified the sergeant as William Melrose, a 13-year veteran of the NYPD. The department's Force Investigation Division was looking into the death, but no disciplinary action had been taken against Melrose, according to the Daily News.
The incident marks at least the second time in recent weeks that an NYPD officer has killed someone reported to be experiencing a mental health crisis. On Oct. 18, police in the Bronx shot and killed Deborah Danner, a 66-year-old woman with schizophrenia who a neighbor reported as acting erratically.
Black Lives Matter NYC reacted to the Bronx man's death on social media Wednesday night.