The CMAs may have scrubbed all evidence of Beyoncé's performance after racist backlash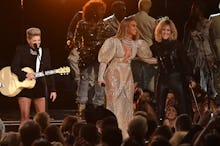 Update: CMAs have sent a statement to Mic, saying the only mention of the performance they removed was an unapproved promo video:
CMA has not erased any mentions of Beyoncé's performance on the CMA Awards. In advance of the broadcast, CMA removed a five-second promotional clip from ABC.com and CMA's Facebook page. The promo was unapproved and CMA removed it prior to the broadcast. Beyoncé's performance with Dixie Chicks was a highlight of the evening and we are continuing to share the amazing full-length performance clip via our official social channels.
Additionally, Sarah Trahern, chief executive of the Country Music Association, told the New York Times: "We believe in free speech and people can post what they're going to post. It's about the music, not about politics."
The original story appears below:
Turns out there are people in this world who don't see Beyoncé Knowles Carter as the embodiment of musical divinity.
Beyoncé slayed her performance of "Daddy Lessons" at Wednesday night's Country Music Association Awards, but good luck finding any footage of on the award show's pages, because it's mysteriously missing from the CMA's official Twitter, YouTube and Facebook accounts. Beyoncé and the Dixie Chicks, which Bey performed alongside, also do not appear on the show's official performers list.
The Dixie Chicks shared a video of the performance on their Facebook and their Twitter and retweeted a story about the Country Music Awards trying to "cover" up the fact they had Beyoncé perform. It also came with a post on their Facebook telling fans: "If we all turn this up really loud, together we can drown out the hate." Because unfortunately, there's a hell of a lot of it going around.
During the show and the lead-up, country music fans took to social media to express their rage that the world's most famous pop star decided to dip her toe into country music's biggest night:
It's impossible to ignore the racial undertones (or blatant overtones) of the backlash against Beyoncé's performance. It's rare to see a black performer at the CMAs, partially because the genre is so white. But that hasn't always been the case.
George Johnson wrote for Ebony about country music's black roots on Thursday:
The banjo, similar to the Banjar played in Africa and was the foundation of early country music, was invented by enslaved Southern blacks in the 1690s. The fiddle was an instrument also played by our enslaved ancestors after their white oppressors introduced it to them. Banjos were played on fields and plantations as "work music" and were often accompanied by field shouts and hollers, which over time transformed into blues, R&B and country music. With emancipation, however, many African-Americans shied away from the music because they wanted to forget their time of enslavement and anything associated with it. Additionally, minstrel shows, which often included the negative depictions of African-Americans playing banjos and eating watermelon, made many black people want to distance themselves from the genre.
That point has also been noted on Twitter:
The CMA hasn't responded to Mic's request for comment explaining the decision. It's possible the exclusivity clauses stemming from Beyoncé's Tidal connection are at play. Her April album Lemonade still isn't on Spotify, and her "Daddy Lessons" breakout video released Thursday is streaming exclusively on the Jay Z-owned platform. 
Mic will update this story as more information becomes available.
Update: TMZ is currently reporting that the CMAs scrubbed Beyoncé mentions because of "racist and other harsh comments accounts." 
The publication writes:
"We're told the honchos were especially concerned about the reaction to Beyonce's support and the support of the Dixie Chicks for the Black Lives Matter movement.
Additionally, Natalie Means of the Dixie Chicks posted two tweets seemingly reacting to the current controversy, with one featuring a fire quote from Beyoncé's "Formation."
Nov. 4, 2016, 10:06 a.m.: This story has been updated.