Dylann Roof trial: As jury selection begins, a reminder of what the hate crime case means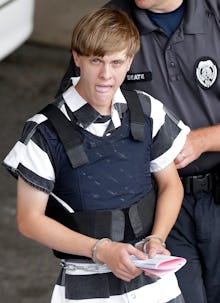 It's been nearly a year and a half since Dylann Roof slaughtered a group of worshippers at a historically black church in Charleston, South Carolina. On Monday, federal prosecutors and Roof's defense team begin sorting through hundreds of potential jurors in his hate-crime case.
The 22-year-old Roof, who has professed his belief in white nationalist ideas online, is perhaps a manifestation of what modern-day white supremacist organizing looks like in the Deep South — it's decentralized and flourishing on the web. Regardless of the eventual outcome, Roof's case proves that the U.S. hasn't come as far in spreading racial tolerance as previously thought.
Over the next couple of months, the public may also learn how a member of the supposedly progressive millennial generation was indoctrinated into a cult of hate that was much more prevalent in the Old South.
What is Roof accused of, again?
On the evening of June 17, 2015, Roof entered the Emanuel African Methodist Episcopal Church in Charleston and opened fire on a bible study meeting, killing nine and leaving three survivors, authorities have said. The U.S. Department of Justice said Roof committed hate crimes and, in July 2015, announced a 33-count federal grand jury indictment against him.
He is charged with hate crimes and firearms charges for killing and attempting to kill the worshippers because they were black and to interfere with their exercise of their religion, Attorney General Loretta Lynch said in a statement.
If convicted, Roof could face the death penalty. His defense team previously suggested that Roof would plead guilty if the feds took the death penalty off the table.
So, does that mean Roof is almost certain to be found guilty?
No, not exactly. The Matthew Shepard and James Byrd, Jr. Hate Crimes Prevention Act, under which Roof is charged, requires federal prosecutors to prove that he was motivated by his victims' race and their exercise of religion, in the commission of the violent act.
Federal authorities have alleged that, several months before he killed the Emanuel Nine, Roof concocted a plan to start a race war in the U.S. and exact revenge on blacks for perceived wrongs committed against whites. "An essential element of his plan, however, was to find his victims inside of a church, specifically an African-American church, to ensure the greatest notoriety and attention to his actions," Lynch said in the statement.
Roof's defense team only needs to inject reasonable doubt that Roof coherently and unambiguously plotted to commit the act of racial violence. It's not clear how the defense plans to do that.
What's the difference between hate crimes charges and murder charges?
Before the DOJ brought its case, a grand jury in South Carolina indicted Roof on nine counts of murder, three attempted murder charges and a firearms charge, USA Today reported. That case also carries the death penalty.
Because South Carolina is one of a handful of U.S. states without a hate crime statute, the Justice Department, under jurisdiction granted by the Shepard-Byrd Act, can bring a separate case. It's important to bring these kinds of cases because "the victim's entire community is left feeling victimized, vulnerable, fearful, isolated and unprotected by the law," the Anti-Defamation League has said.
How long is jury selection expected to take?
It's unclear exactly how long it will take to seat the jury — officials have estimated that it could take a few weeks. The prosecution and defense have a pool of 512 potential jurors, down from the 747 who filled out questionnaires.
Opening statements in the trial are likely to begin sometime after the Thanksgiving holiday, court officials have said.
When will Roof have to answer for the murder charges?
The state's case against Roof is set to begin in January, when the hate crime case will be wrapping up, court officials estimate.