Joshua Beal shooting in Chicago draws sharp Black Lives Matter, pro-police reactions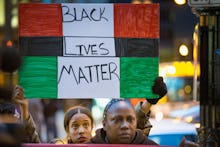 Joshua Beal was in Chicago on Saturday to serve as a funeral pallbearer for his young cousin who died recently due to gun violence. Before Beal and his extended family could return to a funeral home for the repass, police violence cut his life short.
Now, Beal's family is likely planning yet another funeral, after a road rage incident involving a Windy City firefighter and police officers ended with the man's shooting death, the Chicago Tribune reported.
Sharp reaction to Beal's shooting from a local Black Lives Matter chapter and from so-called Blue Lives Matter protesters sparked obsenity-laced disputes caught on camera. At least one Chicago Police Department supporter reportedly shouted to BLM activists, "Nigger, go home!"
Beal, 25, of Indianapolis, had just left his cousin's funeral in a procession of vehicles Saturday afternoon, shortly before he, a firefighter and police officers were engaged in a traffic dispute. A firefighter's insistence that funeral vehicles were blocking an emergency fire lane and causing delays sparked an initial argument, the Tribune reported.
Video of the incident posted to YouTube by the Chicago Sun-Times captures audio, if not a clear visual, of what happened Saturday. Gunfire can be heard at the 0:22 mark in the footage.
Ultimately, a police sergeant fatally shot Beal, after the 25-year-old allegedly failed to drop a gun, Chicago police spokesman Anthony Guglielmi said. Activists said Beal's brother was also arrested during the incident. The city's Independent Police Review Authority is investigating the incident, according to the Tribune.
Beal's family said that, not only did the man legally own the gun, he did not fire at the officer or firefighter. Local BLM activists broadcast an interview over Facebook Live with a member of Beal's family, who identified herself as the mother of Beal's cousin. As of Sunday evening, the video was deleted from the group's Facebook page.
She said the dispute was sparked by plainclothes police officers who cut off her daughter's vehicle from the procession and pointed a gun at her daughter, without identifying themselves as officers. That's what prompted Beal's involvement, she said.
Tiffaney Boxley, Beal's mother, told the Tribune that her son was a father of two children and was engaged to be married. "Chicago police gunned my baby down like [he was] a vicious animal," she said.
Chicago's Mount Greenwood neighborhood, where the incident took place, is a whiter and decisively more pro-police part of the city, as BLM activists and Beal's family found out Saturday evening. According to the news site DNAinfo, pro-police protesters in the area threatened Beal's family and local activists with violence for speaking out against CPD.
Local activist Kofi Ademola said, soon after he and others arrived to the neighborhood to support the family, they were "surrounded by a bunch of angry white people." Police were also on scene and reportedly attempted to keep things peaceful between the opposing groups. Video posted to the local BLM chapter's Facebook page confirms that there were tensions.
"A young white guy [walked] up with a baseball bat," Ademola told DNAinfo. "The police took the baseball bat from him. White people are driving by and yelling at us 'Nigger, go home! Get the fuck out of here! Blue Lives Matter.' More of them got out of [a] car and chanted 'CPD! Blue Lives Matter.'"
Police have not identified the officers or the firefighter involved in Saturday's dispute. However, the officers were to taken off the street to serve 30-day administrative duties, DNAinfo reported.
In addition to the police violence, the racist reaction from pro-officer residents of the neighborhood should have Chicagoan especially concerned, Ademola said. "[The] killing [of] Joshua Beal wasn't enough," he tweeted. "They wanted to lynch us, too."