Who is not returning for the 'Gilmore Girls' Netflix reboot? 8 characters you won't see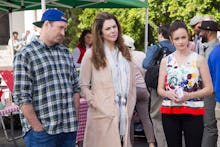 It's been over a year since Netflix first announced the revival of Gilmore Girls and finally, we are just a few days away from a long-awaited return to Stars Hollow. 
Gilmore Girls: A Year in the Life, which hits Netflix on Nov. 25, will be comprised of four 90-minute episodes and follow the show's titular characters, Lorelai (Lauren Graham), Rory (Alexis Bledel) and Emily (Kelly Bishop). 
But, what's Gilmore Girls without Sookie? Or coffee at Luke's? In addition to the the three Gilmore girls, dozens of beloved members of the cast, including Luke (Scott Peterson), Paris (Liza Weil),  Kirk (Sean Gunn), and, of course, all of Rory's ex-boyfriends: Dean (Jared Padalecki), Jess (Milo Ventimiglia) and Logan (Matt Czuchry), will make appearances. 
In fact, there will be over 30 returnees. But here are eight members of the former cast that, unfortunately, will not be apart of your Netflix-binge watch on Black Friday. 
1. Richard Gilmore, Edward Herrmann
Herrmann, who played Lorelai's father and Rory's grandfather on the show from 2000 to 2007, died of brain cancer in 2014 at the age of 71. However, he will still have a part in the show. In the trailer his widow Emily reveals a larger-than-life portrait of Richard to the surprise of Rory and Lorelai. 
2. Max Medina, Scott Cohen
Max Medina, Rory's high school teacher and Lorelai's love interest in seasons one and two, was not written into the revival's script. 
"One person I didn't figure out how to get in was Scott Cohen, whom we love so much," Amy Sherman-Palladino, the show's creator, noted to Entertainment Weekly in April. 
3. Marty, Wayne Wilcox
According to TVLine, Marty, also known as Naked Guy or Rory's fellow-Marx Brothers-loving friend from Yale, will not be be making an appearance in the reboot series. 
4. Honor Huntzberger, Devon Sorvari
Although both Logan and his father, newspaper mogul Mitchum Huntzberger, will be returning for the reboot, it seems that Logan's sister Honor, and her mother Shira, will not be. "Honor's too busy ruling the world... (But she'd totally cave to peer pressure - online petition!)" Sorvari tweeted when asked if she'd be in the revival in March. 
5. and 6. Madeline and Louise, Shelly Cole and Teal Redmann
According to GilmoreNews, both Madeline and Louise will not be joining their fellow Chilton alums Rory and Paris for a spring break reunion. 
7. Liz Danes, Kathleen Wilhoite 
When actress Melissa McCarthy initially tweeted in February she had not been invited to participate in the revival, Wilhoite, who played the role of Luke's sister and Jess' mother, responded, "Well, then I'm in good company. U rule, Melissa. I wasn't asked back either, tho, I think for entirely diffrnt reasons." 
8. Dave Ryjaski, Adam Brody
Despite being a fan-favorite, Adam Brody's character Dave will likely not be appearing in any of the episodes. The rest of the members of Hep Alien, Lane Kim (Keiko Agena), Brian Fuller (John Cabrera), Zack Van Gerbig (Todd Lowe) and Gil (Sebastian Bach), however, will be reunited on the small screen.