In Pennsylvania, election observers are guarding against voter suppression tactics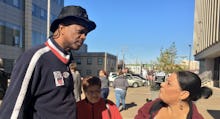 ALLENTOWN, Pa. — Minority voters here might have noticed the presence of election observers milling about polling places during Tuesday's presidential election.
These observers are in high demand in 2016, due in part to the rhetoric of Republican presidential candidate Donald Trump. He recently called on supporters in Pennsylvania to watch for voter fraud in black and brown communities — an unambiguous way of encouraging voter intimidation, voting rights advocates said.
Matthew Scoble, lead coordinator of the Election Protection operation in Pennsylvania, and his team were "prepared for the worst," he said. But their hope for an easy Election Day were dashed early Tuesday morning.
"Because of the competitive election, I think everybody is kind of on guard," Scoble said in an interview. "We're prepared for almost every scenario."
Pennsylvania organizers from Election Protection, a nonpartisan voting rights coalition run by the Lawyers' Committee for Civil Rights Under Law, planned to dispatch close to 700 observers. These volunteers have been trained to spot suppression tactics, record those incidences and report them to the appropriate authority.
Scoble and his team worked from an operations base at St. Paul's Lutheran Church in Allentown, about an hour outside of of Philadelphia. Whenever Scoble's cell phone rang, there was a volunteer on the other end with a question or an incident to report.
In neighboring Delaware County, some polls opened an hour late because a precinct captain called in sick, Scoble said. Elsewhere, some voting machines had broken down. And on at least one Pennsylvania college campus, students were allegedly refused the right to cast provisional ballots, if their names did not appear on the registration rolls. In a handful of precincts on Tuesday told election monitors that poll workers were asking for IDs. Some were allegedly turned away, a spokesperson for the Brennan Center for Justice at New York University said in an email.
In Allentown, a majority-minority city, Latinos make up 42% of the population. The community is a probable target for those who might heed Trump's call to "go down to certain areas" and "make sure other people do not come in and vote five times." the Republican candidate said at an October rally in Altoona, Pennsylvania.
But in Allentown, Scoble and his team worked throughout the morning to address a seeming shortage of translators in heavily Latino precincts. Federal voting laws require election officials in districts with sizable Spanish-speaking populations to staff polling stations with translators. 
One Spanish-speaking voter had to file an affidavit, after the voter reported not receiving language assistance at one polling location, an election monitor said Tuesday. When the voter went back to the polling location, they were allegedly told, "Well, you lost your vote."
Despite those issues, the Latino voter turnout in Allentown appeared robust. Gloribel Virvera and Jose Torres, both locals, said they were motivated by Trump's campaign rhetoric disparaging Mexicans and immigrants. "We have to use our voice," Virvera said through a Spanish language translator outside of a polling location at City Hall.
Problems at the polls this Election Day are bigger than Trump's racially charged threats. This is the first major election in 50 years in which voters are casting ballots without the protections of the historic Voting Rights Act. The 1965 legislation banned Jim Crow-era laws that suppress the vote and have a disparate effect on blacks and other minority voters. In 2013, the Supreme Court struck down section four of the Voting Rights Act, which included federal oversight in several states to ensure that voters do not face discrimination.
In the wake of that decision, Republican-led states enacted a wave of new voting laws that have either been struck down or weakened by courts. In August, federal courts struck down suppressive voting laws in five states — Wisconsin, Kansas, Texas, Michigan and North Carolina.
But federal authorities and nongovernmental groups didn't believe relief from the courts would be enough to compensate for the onslaught of voter suppression threats. The Justice Department said Monday that its Civil Rights Division deployed more than 500 personnel to 28 state and 67 jurisdictions, including Allegheny, Lehigh and Philadelphia counties in Pennsylvania.
"The bedrock of our democracy is the right to vote, and the Department of Justice works tirelessly to uphold that right not only on Election Day, but every day," Attorney General Loretta Lynch said in a statement.
International groups, such as the Organization for Security and Co-operation in Europe and the Organization for American States, dispatched hundreds of election observers who would grade the administration of the U.S. election.
It could take days or weeks before voting rights advocates who monitored the election produce a report of their findings. Walter Felton, the Lehigh County Democratic Party chairman, said Tuesday that he was happy to see people canvassing the state to protect the vote.
"No one who is voting should have to vote with the fear of the Jim Crow days," Felton said outside of the City Hall polling station. "We want it fair and we want it legal."
Nov. 9, 2016, 12:28 p.m.: This article has been updated.