'Gilmore Girls' Cast Now: An update on 12 of your favorite characters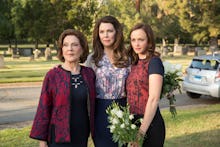 It's been nearly 10 years since the Gilmore Girls series finale aired on the CW, and now we are just a few days away from its revival.
On Nov. 24, Gilmore Girls: A Year in the Life, which is comprised of four 90-minute episodes and stars most of the show's original cast, will premiere on Netflix.   
Soon we will find out what the Stars Hollow residents have been up to since Lorelai reunited with her ex-boyfriend Luke and Rory left to report on Senator Barack Obama's campaign trail. (Yes, the good ol' days before Donald Trump became our next president-elect.)  
But what about the actors and actresses that played these roles? We dug up what 12 of the stars behind your favorite characters have been up to in the past nine years. 
1. Alexis Bledel (Rory Gilmore)
Since starring as one of the series' main characters, Bledel, 35, has acted in an assortment of films like Sisterhood of the Traveling Pants and its sequel, Post Grad and The Conspirator. She also had minor roles on ER and Mad Men. 
Bledel has one child with her husband, actor Vincent Kartheiser.  
2. Lauren Graham (Lorelai Gilmore)
Graham, 49, has had roles in films such as Because I Said So, Evan Almighty and Cloudy With a Chance of Meatballs. From 2010 to 2015, she played Sarah Braverman on Parenthood. 
Most recently she starred as Jules in the comedy Middle School: The Worst Years of My Life. 
3. Kelly Bishop (Emily Gilmore)
After appearing in Gilmore Girls as Lorelai's mother, Bishop, 72, had roles on Law & Order: Special Victims Unit, Bunheads and The Good Wife. 
4. Scott Patterson (Luke Danes)
Patterson, 58, had small roles on the CW's 90210 remake and the short-lived series Aliens in America and The Event. 
He is currently a musician and member of the blues/rock band Smithradio.
5. Keiko Agena (Lane Kim)
Agena, 43, who played Rory's best friend, has made guest appearances on ER, Castle, Private Practice, House, Scandal and Shameless. 
She now does improv with different troupes in California.
6. Matt Czuchry (Logan Huntzberger)
After having minor roles in shows like Veronica Mars and Friday Night Lights, Czuchry, 39, who played one of Rory's boyfriends, starred as Cary Agos in The Good Wife from 2009 to 2016. 
7. Sean Gunn (Kirk Gleason)
Since playing Kirk, who was known for being the Stars Hollow resident with the most jobs, Gunn, 42, had a recurring role on October Road and small roles on shows like True Jackson VP, Glee, Bunheads and Bones.  
In May, he wrapped filming for Guardians of the Galaxy Vol. 2. He is also a cat dad. 
8. Liza Weil (Paris Geller)
Weil, 39, who played Rory's Chilton and Yale classmate, had minor roles on CSI, Grey's Anatomy and Private Practice before being casted as Bonnie Winterbottom on How to Get Away With Murder. 
She has one daughter. 
9. Jared Padalecki (Dean Forester) 
Padalecki, 34, played Rory's on-and-off-again boyfriend from 2000 to 2005 before landing the role of Sam Winchester on Supernatural. 
He has two kids with his wife and co-star Genevieve Cortese. 
10. David Sutcliffe (Christopher Hayden)
Sutcliffe, 47, who played Rory's father, had recurring roles on Private Practice and Mistresses. He also directed and produced the docuseries Group. 
He is currently a core energetics practitioner. 
11. Todd Lowe (Zack Van Gerbig)
Lowe, 39, starred as Lane's husband Todd until 2007. Since then, he has had appearances on NCIS, CSI: Miami and a recurring role on True Blood. 
12. Milo Ventimiglia (Jess Mariano)
Since appearing as Jess, one of Rory's boyfriends and Luke's nephew, Ventimiglia, 39, played Peter Petrelli on Heroes. He now plays Jack Pearson alongside Mandy Moore on This Is Us. 
He also grew a mustache.