Trash fires, protests mark Donald Trump's victory in Oakland and Portland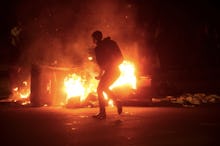 As Donald Trump clinched victory in his bid for the White House, protesters started trash fires, blocked traffic and vandalized public property in California and Oregon late Tuesday into early Wednesday morning.
In Oakland, California, hundreds of protesters shouted anti-Trump slogans in the city's downtown business district, KTVU-TV reported. In addition to lighting garbage bins on fire, protesters vandalized a Wells Fargo bank branch and scrawled graffiti.
The Oakland Police Department issued one citation, but there were no reports of arrests or injury to protesters or officers.
Protests in Portland, Oregon, resulted in at least one protester being struck by a car as more than 100 protesters blocked traffic in the city's downtown district, KGW-TV reported. The protester was not seriously injured.
Portland police did not make any arrests, despite reports of vandalism and trash fires set by protesters.
"We are making noise. We are telling Donald Trump that we don't like that he's here. I feel like we're doomed. This can't be real," an activist told KGW-TV. 
At moments, the Portland protesters shouted "That's not my president!" The crowd also marched through downtown, while chanting "Whose streets? Our streets!"
On Wednesday, Trump won the Electoral College, with 279 points to Democratic presidential challenger Hillary Clinton's 228. As election results were announced Tuesday night, the reaction on social media ranged from disbelief among Clinton supporters to jubilation from Trump backers.
Protests were also seen on the campuses of the University of California, Los Angeles, and the University of California, Irvine, KABC-TV reported.
Anywhere from 1,500 to 3,000 people marched through UCLA, according to the Los Angeles Police Department. Approximately 300 students marched through the UCI campus, school spokesperson Cathy Lawhon told KABC-TV.