"Love Rally" for groups targeted by Trump draws crowds in NYC after protests sweep country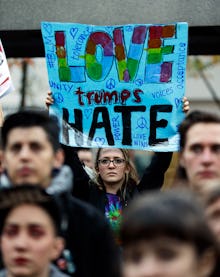 A day after contentious protests erupted in Portland, Oregon, a rally designed to stand in solidarity with the groups targeted by President-elect Donald Trump's rhetoric throughout the course of his campaign taking place in New York City Friday afternoon and evening.
On the Facebook page for the Love Rally — which began in Washington Square Park around 2 p.m. Eastern — the event is described as not being "explicitly anti-Trump."
"Stand together for a rally in WSP. Let Muslims, women, those who have disabilities, latinos/latinas/latinx people, and everyone else Donald Trump has put down to get this far know that this country doesn't hate them," the event page reads.
In the early afternoon, scores of people gathered in Washington Square Park to stand in solidarity with the groups that President-elect Donald Trump demonized, ridiculed and threatened during his run for the White House.
"Not my president!" the crowd shouted as the rally began. "We reject the president-elect!"
"No Donald Trump, no KKK, no racist USA!" they chanted.
Then the crowd got specific, shouting their disapproval of Trump's stances on social issues, as well as the stances of Vice President-elect Mike Pence.
"Bridges not walls," they chanted, in reference to Trump's plan to build a wall at the U.S.-Mexico border to stop unauthorized immigrants. "Hand too small, can't build a wall."
"My body, my choice," the women in the crowd shouted, referencing Pence's anti-abortion stance. "Her body, her choice," the men shouted back.
But not everyone in attendance was in the mood to hug and speak of unity.
"It's really irresponsible for us to just get caught up in loving each other," Luan Socoyote, who attended the rally with a sign that read "America was never great," said in an interview at the park. "People have been loving each other all along and, slowly, America has chosen a fascist."
Trump's victory over Hillary Clinton has sparked protests across the country since early Wednesday. The president-elect initially blamed the media for inciting protests, but then walked that back on Twitter.
Organizers of the Love Rally said they hope the event will be a peaceful one and "an excellent way for those of us with children to expose them to a positive response to Trump's bully tactics."
Mic's Aaron Morrison is attending the event and this story will updated.