Why Donald Trump picking Stephen Bannon as chief strategist has people alarmed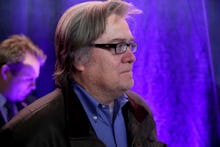 On Sunday, President-elect Donald Trump announced two key members of his administration: Republican National Committee chairman Reince Priebus will be his chief of staff, and former Breitbart chief executive Steve Bannon will be appointed chief strategist. 
While Priebus' appointment was somewhat at odds with Trump's vow to "drain the swamp" of Washington, D.C. insiders, it was the announcement that Bannon would be a close Trump advisor that has troubled many.
In a statement, House Minority Leader Nancy Pelosi strongly rebuked Bannon's appointment, and called on President-elect Trump "to bring Americans together — not continue to fan the flames of division and bigotry":
"Bringing Steve Bannon into the White House is an alarming signal that President-elect Trump remains committed to the hateful and divisive vision that defined his campaign.  There must be no sugarcoating the reality that a white nationalist has been named chief strategist for the Trump Administration."
Bannon has been accused of making anti-Semitic remarks.
In August, it was revealed in a leaked 2007 court filing that Bannon's ex-wife accused him of making a string of anti-Semitic remarks, according to NBC News.
One of the incidents involved a Los Angeles private school in which to send their daughter to. Bannon's ex-wife said in sworn court testimony that "the biggest problem he had with Archer is the number of Jews that attend. He said that he doesn't like Jews and that he doesn't like the way they raise their kids to be 'whiney brats' and that he didn't want the girls going to school with Jews."
Bannon was also once arrested and charged for domestic violence.
Breitbart News Network has been a driving force behind the alt-right.
As head of Breitbart, Bannon is credited with bolstering the alt-right movement, which was a loud undercurrent of Trump's presidential campaign. 
Breitbart became a haven for those on the right with fringe views and somewhat racist beliefs; the news site also helped Trump catapult to victory during the Republican primaries. 
"The internet has led to the rise of new media and a fractured media landscape, which has allowed sites like Breitbart to rise and speak directly to groups like the alt-right that the Republican Party would love to purge," Mic senior policy writer Emily Cahn wrote in August. 
In April, the Southern Poverty Law Center, a hate group watchdog organization, accused Bannon explicitly of being a driving force behind the site's appeal to white nationalists.
The Anti-Defamation League issued a statement on Bannon's appointment, calling the ascendancy of an alt-right thought leader to a senior role in the White House a "sad day."
Trump denounced the hate crimes being carried out in his name.
In a Sunday interview with 60 Minutes, president-elect Trump spoke out against the rash of racial attacks in the wake of his win.
"I am so saddened to hear that," Trump said. "And I say, 'Stop it.' If it — if it helps, I will say this, and I will say right to the cameras: 'Stop it.'"
Nov. 14, 2016 1:42 p.m.: This story has been updated.