#BlackMenSpeak — but will we listen?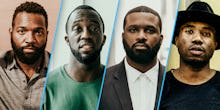 The first time I realized white America saw me as a "threat" was the same day I learned why some black boys and men work so diligently to appear "hard." For some, the performative toughness associated with masculinity is a form of protection. For others, it is a prison. 
In the U.S., black manhood is often interpreted as a sign of danger. It was no different for me. I was guilty of nothing but walking to my aunt's house after school that day in 1994 with an inquisitive mind, cocoa-brown skin and masculine swag, when I learned this lesson firsthand.
The police officer who stopped me didn't see a 17-year-old who would graduate from Camden High School a few months later, with the title — voted by my classmates — of "most likely to succeed." The officer assumed the black boy he cornered, physically assaulted and arrested was a drug dealer who, by virtue of being black and male, couldn't possibly be anything else. 
It took me years before I shared this story with others. I still think about it often today. I think about how that interaction shifted my perspectives about law enforcement. I consider the many ways my demeanor and attitude changed after the officer threw me against a brick wall with my arm twisted behind my back. The toughness I began to perform was a response to the toughness the world seemed to hand out so easily to black boys like me.
Black boys and men have many stories to tell. Some — like the one I just shared — are critiques of and responses to a society steeped in anti-blackness. Some are self-reflective in a different way, analyzing the ways black boys and men benefit from patriarchy even as we strive against systemic racism. 
This week, Mic publishes #BlackMenSpeak, a project presented by the Campaign for Black Male Achievement —  a national membership network focused on improving the life outcomes of black men and boys. The video series chronicles black male artists and influencers who view art as a tool for social change. More than that, those interviewed see art as way to undo negative portrayals of black boys and men in media. #BlackMenSpeak is an invitation to public dialogue. And it could not appear at a more critical time in the U.S.
To the astonishment of many, reality TV personality and real estate mogul Donald Trump was elected to the U.S. presidency on Nov. 8 after running a campaign fueled by racism and misogyny. Over the next four years, we will live under a president who is likely to fill key administrative posts with figures like Rudy Giuliani, the former mayor of New York City, whose aggressive and punitive approach to "law and order" will likely impact black communities the most.
Now is the time for black boys and men — and girls and women — to name and push against the tropes that justify the creation of public policies that result in the over-criminalization of black people . Our blackness is not a sign of criminality, cultural pathology or terror. We are not America's collective threat.
"We all subsist on a diet of imagery and ideas about who we are that are imposed on us," producer and author Baratunde Thurston stated during his #BlackMenSpeak interview. "We should represent Black people as people," not threats.
Because people are acknowledged and respected. Threats are contained and extinguished. Black boys and men are people. But the consequences of being interpreted as dangerous in a country where we aren't taught to make that distinction are plenty. This is why conversations among black boys and men are critical. #BlackMenSpeak is a start.
Check out Pharrell Williams and Baratunde Thurston in the videos below.