How to make money on Instagram and get paid for sponsored posts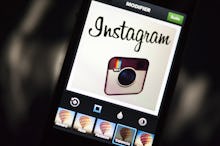 Trying to make a profit through sponsored posts on social media is still a relatively difficult gambit.
For every successful entrepreneur making five to seven figures from their accounts, there are a hundred poor souls following the same formula — but toiling in obscurity. In other words, nothing is guaranteed.
But that shouldn't stop you from trying to garner the attention of brands and companies willing to pay for social media savvy.
Corporations large and small are throwing around tons of money in the battle for internet recognition — why shouldn't you get a piece?
How to start your Instagram business
Doing your research on particular brands ahead of time really pays, said John Rampton, founder of Due.com. Instead of trying to appeal to all kinds of brands, focus on the ones that might really resonate with your audience.
Your best-performing posts get lots of love from sneakerheads? Then you'll want to learn all about up and coming sneaker brands.
"If you're looking to attract a brand, pay attention to the hashtags they're using, and then dominate them," Rampton said. "Post several times around when they post and make sure you're number one for that tag. Be engaged and encourage followers to engage and tag their friends. Also, start posting similar types of content."
Using apps and smart timing — plus all those secrets from the pros — to up your Insta game is a good idea.
That's because taking truly great photos is key, said personal finance writer and coach Amanda Abella — as is using consistent themes and hashtags. 
The best Instagram accounts create a unique personality that others can't replicate, said personal finance blogger Michelle Schroeder-Gardner of Making Sense of Cents: Try focusing on what makes you special and use that to build your own brand and attract new followers.
"I'm a full-time traveler, RVer and personal finance writer, and there's no one else out there on Instagram who is like me," she said.
Boost Instagram engagement with a targeted audience
Jessica Bishop, editor of The Budget Savvy Bride, posts giveaways, links to blog posts and ideas on how to create a Pinterest-worthy wedding without spending a fortune — and she currently has 14,500 followers on Instagram.
But becoming popular on Instagram requires more than just focusing on your follower count, Bishop said: You should focus on gaining followers that actually care about what you post.
"Obviously many brands seek out influencers with large follower counts, but sometimes having a smaller, highly engaged niche audience is even more valuable to a brand if it fits their target customer," she said.
So don't stress about raw numbers. Instead, focus on the common themes among your followers (Moms? Dog-lovers? 'Grammers who love natural hair?) and lean into the types of posts they tend to engage with.
How much to charge brands for sponsored posts on Instagram
One social media analytics firm says that influencers with more than 7 million followers can get about $150,000 per sponsored post.
But if you are just starting out, you'll need to lower your expectations a bit.
Rampton recommends pricing based on your average post: $0.25-$0.50 per "like" and $1.00 per comment to start.
Get this agreed upon in writing before you create the post.
It can be helpful to ask about a company's budget before you tell them your prices; this puts the pressure on them, and then you can try to negotiate up.
Schroeder-Gardner said she also offers to create packages specific to the brand, depending on what kind of promotion they're looking for.
Get lots of likes on your beauty product posts? Pitch a "banish your winter skin woes" series to a skincare company looking to promote a new line of moisturizers.
In other words, just as in other fields, your Insta business will benefit if you get specific and show you'll add value — based on your track record.