Oklahoma Airport Shooting: Airline employee killed at Will Rogers Airport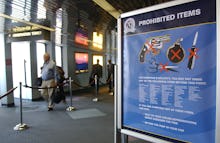 An airline employee was killed in an ambush attack at Will Rogers World Airpot in Oklahoma City on Tuesday, causing authorities to temporarily shut down the airport and suspend inbound and outbound flights, USA Today reported.
Michael Winchester, a 52-year-old employee of Southwest Airlines, was fatally shot by an unidentified suspect, while he was in transit between an airport terminal and the employee parking lot.  The suspect, who apparently knew the victim's schedule, carried out the attack and then turned the gun on himself.
The suspect's body was found in a truck in a nearby parking lot, according to Oklahoma City police Capt. Paco Balderrama. 
"This individual went there and waited for the employee to either be coming or going to take this opportunity," Balderrama said in a news conference, according to USA Today.
After reports of the shooting emerged, authorities issued a shelter in place advisory for people inside the airport. Officials at Will Rogers also suspended inbound and outbound flights while the shooting was being investigated.
Will Rogers airport sees up to 8,000 passengers daily from its major airlines, including Alaska, Delta, Southwest and United, according to USA Today.
Southwest Airlines said via Twitter that it had cancelled its inbound and outbound flights at Will Rogers until 6 p.m. central time Tuesday. As of Wednesday morning, airport operations were returning to normal.
After Winchester was confirmed as the victim of the shooting, Southwest Airline issued a statement, which USA Today published.
It is with great sorrow that Southwest Airlines confirms that a Southwest employee who was injured during a shooting incident today at Will Rogers World Airport in Oklahoma City has died from injuries. We continue to work with the local authorities investigating this incident. As a result of the police investigation, local flight operations have been halted. The Southwest Airlines family is deeply saddened by the passing of our Southwest family member, and we extend our heartfelt sympathies and support to his family and Southwest co-workers at this time.
Nov. 16, 2016, 9:52 a.m. Eastern: This story has been updated.